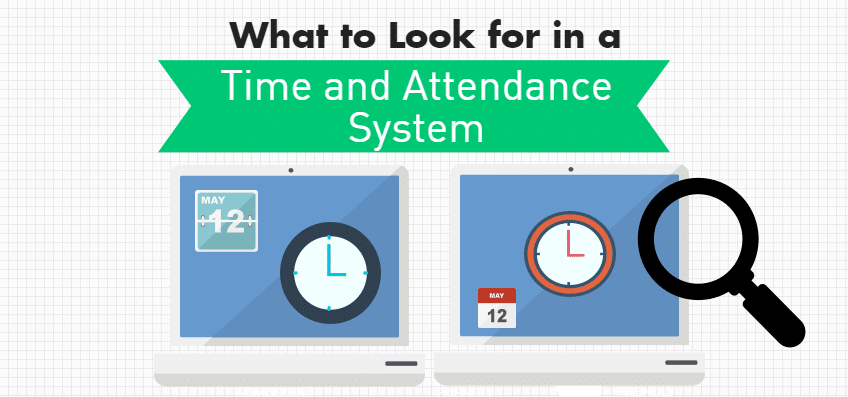 A Quick-Guide to Time and Attendance Systems
Thinking about implementing an automated time and attendance system? Smart move. Want to know what to look for in a time and attendance system? Here's our quick-start guide to everything you'll need to know about what a time and attendance system is, the benefits, and choosing the best one for your business.
In the search for increased revenue, stop looking outward and start looking inward. As technology continues to revolutionise management, small business owners need to optimise a crucial aspect of their model: their employee time tracking system. You could be losing hundreds of hours and thousands of dollars to the "time theft" that paper or memory-based systems won't pick up. Imagine having real-time visibility of your largest expense – employee hours. What if you could pinpoint who's on the clock and where the hours are going?
Switching to an automated system will streamline your business, maximising revenue, productivity, and workplace morale.
What is a Time and Attendance System?
An automated time and attendance system is a type of business application designed to record and optimise employees' hours spent on the job, wages, and salaries paid. This kind of system is common in business of all sizes, and can track from the simple (hours worked) to the complex (vacation, holiday and sick time, leave of absence, etc.). Furthermore, employees can clock in and out electronically via internet-connected computers, smartphones, time clocks, etc. Then, this data is tracked and directly connected to your payroll system.
Pros:
Eliminates the need for manual timecards.
Time is collected electronically.
Calculations are done for you.
All of your time needs can be managed in one program:

Attendance
Paid time off
Scheduling
Cons:
Can be more expensive short-term than manual/paper methods.
Curb perceptions that employees self-tracking their time is a form of micromanagement.
However, these systems aren't just about when employees come and go. They can also:
Monitor mobile employees through geofencing/geolocation.
Show who is working, who isn't, who was late and who's working overtime as live-data.
Track paid time off work.
Manage and create employee schedules/rosters.
Provide owners and managers with accurate, detailed data on labour.
Comply with government regulations.
Minimise errors in bookkeeping.
Offer self-service options that allow employees to handle time-tracking tasks independently, including:

Hours worked.
Current/future schedules.
Paid-time off.
However, not all automated software are the same, and you need to know what to look for in a time and attendance system. There are a range of systems, which come in two solution formats: cloud based or on-premise.
Recurring monthly costs (often as a per-user fee ranging from $1 to $10 per employee, per month).
Some services will also include a base or minimum monthly charge.
Some providers will charge an initial set-up fee.
All support and software upgrades are included in monthly expenses.
On-Premise Systems:
Pay all costs upfront.
Price range is upwards of several thousand dollars to cover software, licenses for each individual employee, and initial installation.
No further monthly fees or expenses.
Ongoing support or software updates are not covered by your one-time cost, hence support costs are extra.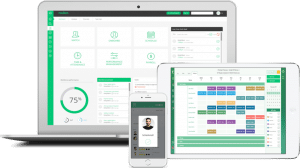 The Benefits
An automated time and attendance system will mean less time spent (by both HR and employees) on manually tracking, recording, and processing hours spent working daily, weekly, and monthly. With all that taken care of, employees can focus on their actual work. However, the benefits don't stop there. You'll need to know what to look for in a time and attendance system – which we will detail below – but here are some benefits.
Improve Financial Insight
An automated time and attendance system allows for the advanced tracking of key performance indicators, including:
job costing
labour distribution
hours and wages
number of employees
working/scheduled status
Save Money
These detailed financial insights will allow you to identify where the costs are and where there's room for change – a highly cost-effective tool. Furthermore, a technology-based system can also reduce your overall labour costs. Manual systems take a lot of time to collect, manage, calculate, and process time data, finally transferring this information to the payroll system. An automated time and attendance solution allows your business to reduce expenditure and maximise efficiency.
Involve Employees
Automated systems also give employees the power to handle their own time-related tasks, such as reporting their hours worked, tracking paid time off, sick days, and submitting requests for annual leave. Rather than discrepancies impeding on work productivity, employees can access this information on their own at any time. Moreover, seeing how much time they spend on certain sites or projects will give employees the insight to eliminate their own inefficiencies.
Increase Employee Happiness
Time and attendance systems will also lead to a reduction in frustration levels across the board, resulting in happier employees. Manual systems can be slow, inaccurate, and can't track all the necessities (performance, labour costs, etc.), which can frustrate employees, HR departments, managers, and owners alike.
Review Data in Real-time
These systems track data as it's happening. Therefore, hours, job codes, and information about breaks, lateness, leave, etc., are viewable in real time.
Maximise Accuracy
Time and attendance systems guarantee increased accuracy, as they prevent users from entering false information and require employees to follow policy. Thus, employees can't clock in for their co-worker who's running late, and they can't take a longer lunch break than they're supposed to. Such time theft is costly, and an automated system will prevent it altogether. Moreover, the removal of human error and the impartiality of technology can eliminate errors in data entry and calculations.
Increase Security
Automated systems combined with biometric data collection devices can be used to regulate employee access to certain areas and record employee entry. In addition, this data can also be used to deter employee theft of equipment or property.
Simplify Insurance
This software is also a great way to assess insurance requirements. Information that insurance companies require (such as total hours worked by employees) is easily obtained through these systems.
Grows with Your Business
A paper-based process may work, in some regards, for your small business today. However, as you succeed and grow, you'll constantly have more employees and information to track. Instead of a system that confines, you want one that will expand with you.
What to Look For in a Time and Attendance System
Now you know what a T&A system is and all the benefits they offer, you need to know what to look for in a time and attendance system. How can you identify the right one for your business? It's an expanding market with a lot of options, but these features are what to look for in a time and attendance system:
Ease
These systems may sound high-tech, but the best ones are quick and easy for anyone to use. What's the point of an amazing system if no one can figure it out? Look for simplistic, clean interfaces with options for employee self-service.
Flexibility
Keep your eyes out for a system that will allow your employees to track their hours through multiple methods, such as a timeclock, smartphone, internet-connected computer, etc. Multiple access options will maximise efficiency and ease of use.
Accuracy
The best systems will ensure you're paying people for the time they actually spend working, and not the hours they're scheduled to work. Furthermore, they'll be backed by a payroll system that ensures full modern award compliance so your business never has to face Fair Work fines.
Multipurpose ability
Choose a system that condenses all of your time-related needs into the one place, including managing employee schedules, and calculations for paid time-off or overtime. So, don't waste money and time by investing in multiple solutions when one will work.
Mobile Compatibility
As employees and managers are increasingly working outside the office, you need a system that is compatible with mobile devices for flexible access. You may want to consider solutions that not only clock workers in and out, but also track their location. This will ensure that employees are working from where they're supposed to be during their paid hours.
Integration
If you're happy with your current HR and payroll programs, choose a time and attendance solution that will integrate smoothly with your pre-existing software.
Proactive
Proactive-alerts or notifications when employees forget to clock in/out or are approaching overtime will help to control business expenses.
Audit Trail Features
Having the option to view original timesheet data (and any subsequent changes made by managers or supervisors) will be indispensible in the case of an audit.
Expandability
Whilst it may be tempting to grab a bargain-basement system that can squeeze in your business' current needs, the fuss of upgraded as you succeed and grow will be expensive, time-consuming, and disruptive. Instead, invest in a system that can easily scale to accommodate your growth.
Whether you're considering an automated time and attendance solution for the first time, or you're trying to replace a system you've outgrown, you're faced with a seemingly endless supply of options. It's easy to get caught up in the hype of the flashy latest-and-greatest tech, but instead, focus on systems that perfect the basics. If you're upgrading or starting fresh, take the time to find a system that fits and is ready to grow with your business. Now that you know what to look for in a time and attendance system, it's time to get started! Get in touch with us at Roubler today, and experience the benefits of an automated time and attendance system.