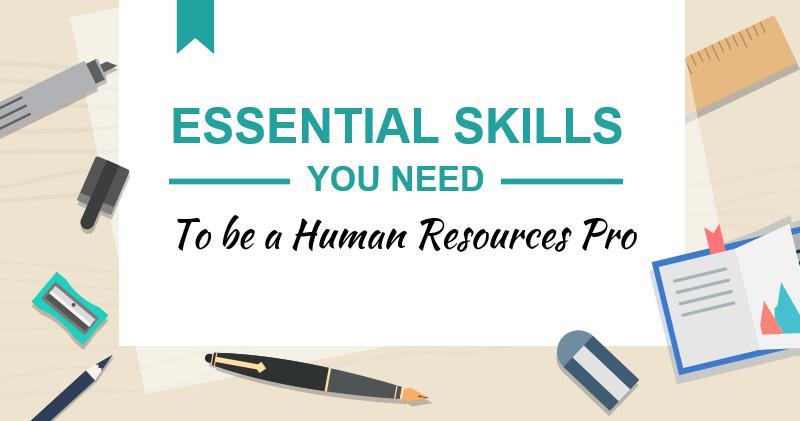 The Essential Skills You Need to be a Human Resources Pro!
A Human Resources Professional has a unique set of skills that makes them invaluable to a company. As some of you may know all too well, working in HR can be a tough gig. So if you are considering taking this career path or you're already in the HR workforce, here are a few of the essential skills required successfully become a Human Resources professional.
Organisation
An important aspect to be a Human Resources professional is to be organised! The key to remaining organised is keeping a logical filing system, have efficient time management skills to stay productive at work and ensuring your desk does not turn into a mess. If someone requests a specific file, it is your duty to know exactly where it is. Evidently, the more organised you are, the more time you will save searching for that document or file. A tidy workspace encourages a tidy mind.
Communication
Obviously, being able to communicate effectively is an essential skill of HR Management. You must be able to discuss terms with current employees and potential employees as well as routinely communicating to upper levels of management. In today's day and age, communicating methods are not one-fold anymore. A Human Resources professional must be flexible in their job and be prepared to speak in front of small and large groups, write updates for the workforce and potentially use and update social media platforms. You must be comfortable talking with various personality types and be able to handle the various ways people communicate.
Strong interpersonal skills for recruitment
Sometimes, identifying the best talent to suit your organisation can be rather time consuming. During the interview and hiring process, it is essential for a Human Resources Professional to harness strong decision-making skills to ensure the right candidate is recruited. This involves having strong interpersonal abilities to ensure consistent communication with the talent whilst efficiently representing the company's goals.
Negotiation
If you are a great communicator, you must also be a great negotiator. As a Human Resources Professional, you must possess the ability to successfully negotiate terms between two parties. This may be easier said than done as opposing views often clash. Negotiating involves remaining calm and rational about the situation and not letting your judgement get the better of you. You must aim to reach the middle ground whilst keeping everyone involved happy.
Multitasking
A HR manager is inundated daily with various questions, requests and problems within the workplace. Hence why multitasking is such an essential skill for a HR professional to be successful. Businesses are fast paced environments that require quick solutions to a whole host of issues. Your ability to multitask will be the difference between a well functioning workforce and complete chaos. You must know how to adapt to the chaos and handle these issues systematically.
Problem solving & conflict resolution skills
Regardless of how large or small a workforce is it is expected that certain employees will not get along with each other. It is the HR professionals aim to find a way in which everyone can work together functionally without conflict arising. To be an effective HR manager, you need to have some problem solving techniques up your sleeve. These include listening to the issue, compromising between parties and then coming up with a solution where employees can work together in a civil manner.
Impeccable ethics & discretion
As the HR professional, it is your job to distinguish the ethical balances between employees and management. At times, you will be the conscience of the business by ensuring regulations are followed by all parties and knowing when to speak up if policies are not being obeyed. HR management must always remain discrete and appropriately handle confidential information being sure not to disclose any private knowledge to an unauthorised person.
The overall aim of your job is to maximise the productivity of the organisation by finding and retaining excellent employees and providing a functional and happy work environment for them. Simply put, these skills will pave your road to success in the Human Resource Profession.