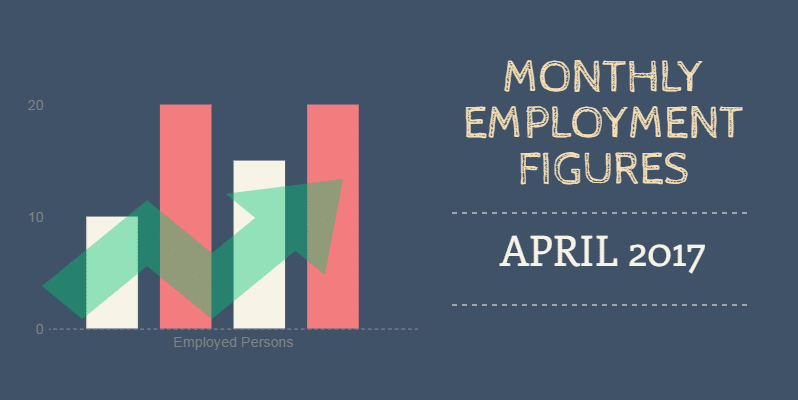 Labour Market Sees Part-Time Revival
The monthly employment statistics for Australia, released yesterday by the ABS, showed signs of promise for the workforce with a welcome growth in the numbers.
Job Growth
April surpassed expert predictions and saw 37,400 extra jobs filled throughout Australia, dropping the unemployment rate to 5.7%. This marks the seventh straight month in which the country has added jobs. Should this trend continue, the country could potentially come close to the 5% unemployment rate by the end of the year – a figure that many economists term "full employment".
South Australia was the state with the highest unemployment of the month, with a figure of 7.3%, and New South Wales the lowest with 4.7% – a four-and-a-half year low. Victoria sat at 6.1%, Queensland at 6.3%, and both Western Australia and Tasmania at 5.9%. All states except South Australia experienced a desired drop in unemployment.
The overall participation rate – a figure that reflects to the number of people either employed or actively seeking employment – remained stable at 64.8%.
HSBC Australia chief economist Paul Bloxham told the Herald Sun that the report indicates that the jobs market is "showing signs of life" after a disappointing year and a half.
Rise of Part-Time
However, the number of monthly hours dropped by 4.3 million hours nationally, highlighting the rise of the part-time position. Full-time positions decreased by 11,600 whereas part-time employment saw a growth of 49,000. The past year has seen only 80,700 full time roles created, versus 111,3000 part-time positions. This means that approximately two thirds of the job increase since last April have been part-time work.
"April's entire job gains were part-time. Full-time employment losses meant that employers effectively downgraded some positions, which was reflected in a 0.3 per cent decline in hours worked," Citi economists told SBS.
This raises concerns that many Australians are not getting the hours they were hoping for.
Opposition employment spokesman Brendan O'Connor criticised the government for backing cuts to penalty rates and swelling taxes during a period of low wages growth.
"It is good for people to be employed but to have a job that might be two hours a week is not necessarily sufficient," he said to reporters in Brisbane.
"There's no point in saying that people are in the labour market if you have in excess of one million people saying we can't find enough work."
Australian Chamber of Commerce and Industry chief James Pearson told AAP the figures indicated that employers are keen to hire.
"Rising part-time employment is a natural feature of an economy undergoing structural change and as the Reserve Bank noted this month, part-time work is chosen by many people juggling responsibilities," he said.
"It makes the story a bit less positive, but it's still a strong report," Bank of Melbourne senior economist Janu Chan told Business Daily.