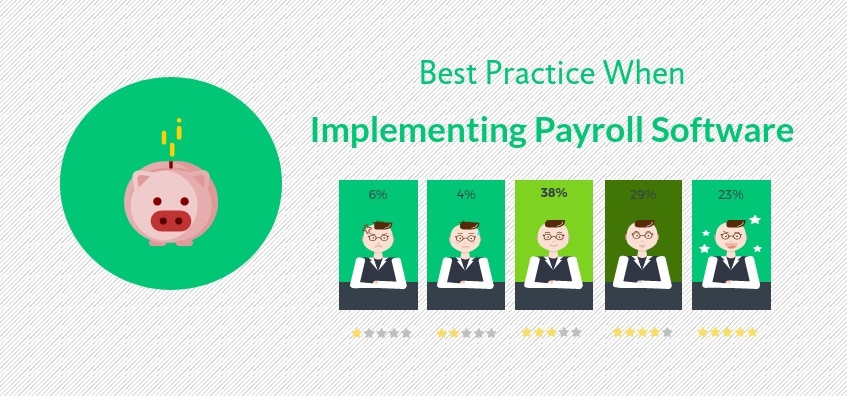 Best Practice When Implementing Payroll Software
Employing a payroll software for your company is a simple and easy way to save time and money, as well as ensure the accuracy and compliance of each pay run. However, the process of implementing payroll software is crucial in ensuring a successful outcome for all parties. Not performing best practice in the implementation process can slow down results for your business. Here is a list of tips for best practice when implementing payroll software.
Identify processes that could be automated along with your payroll
There are many HR and administrative procedures within countless workplaces that can easily be completed by HR software. If you're already making the smart move and implementing payroll software, it's worthwhile examining what other procedures you can automate. Everything from your workplace's recruitment, onboarding, rostering, time and attendance, and even performance assessments, can be accomplished by HR software. If you identify these prior to implementing payroll software, you can chat to your payroll software provider about this, and see if they offer any of these services. The best choice is an all-in-one or end-to-end HR software, which can complete all these listed tasks within the one program. By identifying what you can automate early on, you can easily rollout an entirely new HR system to save your company hundreds of hours and thousands of dollars.
Take it for a test run
It's a good idea to arrange a meeting with your payroll software company prior to implementation. This way, you can properly interact with, and get a feel for, the technology before the rollout begins. This will allow you to do some initial trouble shooting with the payroll software provider and have all your personal questions answered early on in the process. It's at this point that you can also confirm with your payroll software provider that their service is fully award compliant, and that they will continue to update their systems as changes occur within the compliance system. You should also check that their service is cloud-based and accessible via mobile. The whole point of a new payroll system is to streamline your HR and administrate processes, so you don't want to end up further complicating them with outdated and clunky software.
Planning makes perfect
You don't have countless hours to spend implementing software. So, the best way to get the job done is to plan ahead. Set a time and date, inform employees and your payroll software provider, and stick to it. By planning ahead, you should also be able to more easily identify any potential issues that will arise. For example, you may discover that an existing software you want to integrate with your new payroll software may need to be upgraded. You can then upgrade it before the implantation process begins to save time. If your new payroll software operates via an app, ensure employees have each downloaded it onto their mobile. You'll also be able to prepare any data that will need be imported from your old system into your new one.
Decide on either phases or full rollout
Payroll software has advanced rapidly, and in many cases the software incorporates more than just payroll. As discussed, many systems incorporate other processes such as time and attendance, onboarding and scheduling. If this is the case with your payroll software, you need to decide whether you will implement the software in individual phases, or do an entire rollout. At every step of the implementation, it's important that the manager and the employees understand exactly how the software functions.
Create a team in charge of implementation and confirm your contact
Every employee should be briefed on the changes about to be put in place. However, selecting a specific group of employees in charge of rolling out the software makes the process a lot easier for everyone. This group should be chosen with care. The leader of the implementation team should have qualifications fit for the role, and the rest of the team should comprise of employees who specialise in various positions within the company. It is best if these employees all have a fair grasp of technical know-how. However, good payroll software shouldn't be very difficult to understand. If you've selected a great payroll software solution, you should have been assigned a payroll officer who will come out to your office to get things started. This officer and group of employees should meet, troubleshoot and implement.
Get employee self-service running ASAP
If you've selected a payroll software solution with employee self-service – well done! You're going to save a lot of time and resources. This is an element of your software that you should implement as soon as possible. Because every staff member will become responsible for their own HR data entry, it's important that everyone knows how to do so from the very beginning of the implementation. Create accounts for each of your staff members, and get them to set up their passwords. Show them around the software and point out where they enter specific data. This will go a long way in ensuring the smooth running of your system in the future.
Provide support for the first few months, and be enthusiastic about the software
It's likely that even if your software is straightforward, your employees will still have questions over the first few months. Anything new is always daunting, so easing employees into the new system will go far in terms of their comfort with it. Providing support during the first stages of implementing payroll software will foster confidence within your employees, plus it will better prepare them for use in the long term. At team meetings, check-in with how everyone is going and provide answers to any queries. Ensure that you explain to your staff all of the ways in which the software will be beneficial. Not long after, you're sure to see successful interaction with the software from all of your staff, and a far more productive and profitable workplace!
Always listen to feedback
Employees are always keen to give feedback on workplace changes, and the implementation of new payroll software will likely receive the same treatment. It's important to listen to the feedback that employees give on the software, and address it appropriately. If they point out specific issues with the system, get in touch with your assigned payroll officer and chat to them about it. If it's a technical issue, the payroll officer should address this with their development team. If it's an issue about functionality, the officer can chat to their team about ways to improve the service. If it's a lack of understanding across the board, your payroll officer should be more than happy to come back in for another quick lesson.
Payroll software, and end-to-end HR software can make massive improvements to your business's efficiency and turnover. However, best practice when implementing payroll software is key to the success of the rollout. If you follow these few tips, you're sure to see success.