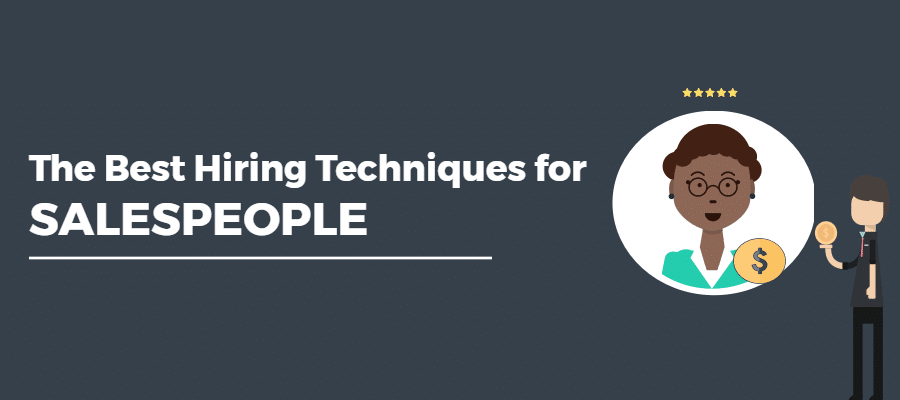 The Best Hiring Techniques for Salespeople
Talent management, hiring, and training, is expensive. Replacing just one salesperson can cost your business up to $90,000.
It can cost up to $300,000 for another job in sales, despite the average annual turnover being 25-35%. This isn't including the drop in business and sales you will experience during this period of disturbance.
Depending on the business, on and off boarding time could push the loss of revenue through sales to $1 million.
Despite sales being vitally important, less than 100 of the 4,000 American Universities have sales programs. In fact, sales employees could come from almost any graduate background.
This means it's difficult to target a specific resource or group for hiring. With the increased analysis and data research required to find a qualified graduate for the position, companies are losing money.
Companies lose more time trying to find the perfect salesperson than they do on anything else. So how do you make a salesperson a more profitable hire?
Make strategic hires
Every article highlighting the traits of salespeople says the same thing: they must be extroverted, confident, assertive, and driven. These are too broad. They drive home the fact that you are more likely to hire someone that you are personally drawn to. In essence, you hire people you like.
According to research, it's a common misconception that good salespeople share the same traits. In fact, often the results find contradictions in the stereotypes. In reality, you cannot hire for specific traits. You have to hire for the task at hand.
Take a look at the sales tasks required, and your strategy for achieving them. Make smart choices in hiring criteria, searching for someone who can meet these specific goals.
Hone in on behaviour
Studies have found that high turnover rate and below average work performance can be attributed to "poor job fit." CEO of Zappos believes that hiring poorly resulted in about a $100 million loss to his firm. Often employees will become frustrated if their position does not cohere with the skills they emphasized on their resume.
Often, managers believe they are a good judge of applicants and their skills. However, research suggests there's a less than 25% correlation between success in the position and the prediction of success. Therefore, a more amalgamated approach to hiring would be far better.
Try simulations, or immersive tasks, before offering applicants a position. This will give you an idea of how they will react. Investment banks and the like bring in applicants to work under observation before offering a position. This process could be replicated in sales positions.
Some companies, like HubSpot, provide a month of in-depth sales training. In addition, they make employees perform the tasks of the customer so they are able to see the problems from another angle.
"They experience the actual pains and successes of our primary customers: professional marketers who need to generate leads online. As a result, our salespeople are able to connect on a far deeper level with our prospects and leads," says Mark Roberge of HubSpot.
Make your needs clear

When you say "relevant experience," make it inescapably clear what this means. A survey found "selling experience within the industry" was the number one selection criteria for 50% of respondents. 33% would also take sales experience in another industry.
However sales experience can mean a range of things. An applicant could be skilled in selling a specific technology. They could be highly culturally aware for selling to a certain nationality or culture. An applicant with sales experience to sell for a specific company might not be the right fit for yours.
Therefore, when you go to hire, ask clarifying questions about the experience an applicant has. Additionally, be specific about the experience required, rather than the blanket term of "sales experience."
Continual progress evaluation

Markets are continually changing. They will not remain stagnant while you formulate a sales plan. As a result, it is your job to ensure you and your employees can adapt with the market.
Employees one year may be required to be competent in selling to a small group, while the next the focus may be large organisations. Even in the last few years, skills and competencies that were required have become less important.
This doesn't mean that the basic skills of sales have changed. It's that in the process of growth, what was considered top end sales techniques, is now only a basic requirement. This means that as your company grows, you must keep your finger on the pulse of what is required of a good salesperson. Perform regular talent analysis, and conduct a skills inventory. Stay in touch with current sales practices, and ensure your employees have the skills to deliver.
Now more than ever in such a fast-paced market, it is important to stay ahead of the game. Companies who keep updating their skills and monitoring their workforce are on the track for success. In sales, if you don't pay attention, you will be left behind.
Need help hiring and assessing candidates that will be the perfect fir for your workplace? Roubler's advanced software examines the previous experience, skills, and personal qualities of every potential employee and compares it to your current workforce and HR requirements for the perfect hire. Find out more here.