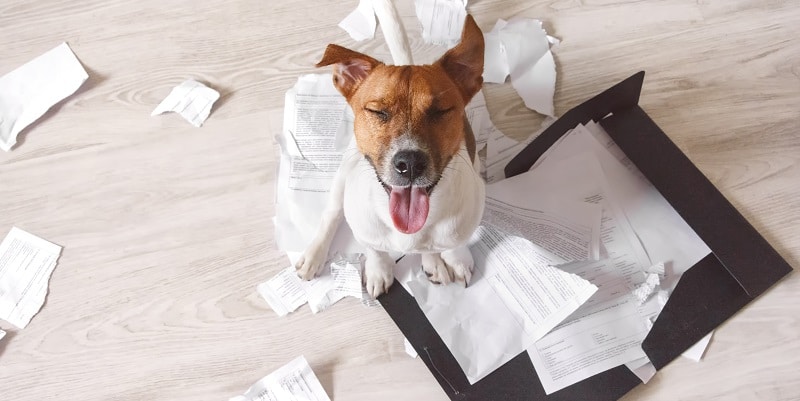 The dog ate my roster (and other reasons employees are late for work)
A quick internet search will provide you with a plethora of excuses for why employees are late for work. They range from plausible to downright ridiculous:
The dog ate my roster / It got stolen in a coffee shop / I used it in a first aid emergency.
My uniform shrank in the wash.
I got locked in the bathroom.
The power went out so my alarm didn't go off.
The car wouldn't start.
Traffic was gridlocked.
The train didn't run because there was no one to drive it.
My toddler had a meltdown because he was given breakfast in a blue bowl instead of a red one.
I spilled coffee on my only clean shirt.
I spilled coffee on someone else's clean shirt.
I was bitten by a radioactive spider.
While sometimes being late is unavoidable (such as in the case of radioactive spiders), continual tardiness can be a drain on businesses and resources. According to a study by CareerBuilder, around 30% of employees show up to work late at least once a month. The most common excuse was traffic, making up for 51% of tardy excuses, closely followed by oversleeping and bad weather at 31 and 28% respectively, with childcare issues coming in close behind.
More bizarre excuses reported in the survey included a zebra being loose on the highway, using super glue instead of contact lens solution, and their cat getting stuck in the toilet. While the zebra story was, unbelievably, proven true it may not serve you well as a reliable standby excuse.
According to the American Payroll Association, up to 10 minutes of productivity can be lost per day per employee through running late, taking long lunches, and leaving early. Absenteeism costs more, with loss of productivity costing workplaces $578 per day for each absent employee. Shift work results in an even higher level of absenteeism, coming in at $2,660 USD more per shift worker per year than regular daytime employees. In a company of 500 shift workers, this is a huge $1.3 million USD in costs.
Absenteeism and late attendance can drastically affect your bottom line. So what can be done to reduce costs and have more employees showing up and showing up on time?
Automated, accurate rostering
A study of roster changes in the mining industry found absenteeism soared when unregulated and excessive overtime was introduced to rosters.
What's more, a report by the Economic Policy Institute detailed the consequences of irregular work scheduling. They found as much as 17% of the workforce is working under unstable work shift schedules, which can increase work-family conflict, an increase in illnesses, poor sleeping patterns, and difficulty securing childcare. The culmination of these issues results in tardy, absent, or disengaged employees.
The results of income instability produced by erratic work patterns can decrease household consumption, meaning overall poor macroeconomic performance. The very real effects of poor rostering were seen in 2014, when employees of Aer Lingus went on strike to secure a better work/life balance.
Using automated, online rostering software gives managers greater visibility over labour costs, staffing by department/role, and labour efficiency statistics which empowers them to create better rosters that require fewer changes and reduces the reliance on unplanned and unnecessary overtime. Furthermore, shift pattern tools (as Roubler has) allow for employees to be allocated regular shifts, with no extra work required on the part of managers.
Clear and regular communication
Open and honest communication can help you determine why an employee may be running consistently late, and whether they are making up the time in other ways (e.g. working from home). While having employee discipline measures in place is important, make sure to talk to the employee about why they are late, and ways this problem could be fixed.
Ensuring there is a streamlined way to remind staff of shifts and communicate updates is also critical. A study by Ximble found shift reminders cut down late attendance by 21%, and overall missed shifts by 16%. Using Employee Self Service apps like the one available through Roubler sends push notifications directly to employee's phones, making them immediately aware of any shift changes or upcoming work.
Using an Employee Self Service app that integrates with your online roster can help employees keep abreast of their shifts, removing the uncertainty and allowing them to plan ahead to avoid tardiness. Gone are the days when you can produce one roster and stick to it. Roubler's rostering software empowers employees to swap shifts themselves with others in the same location, the outcome of which is automatically updated in the system.
If an employee is going to be running late, it's best you know as early as possible. Set up an open line of communication so it's easier for employees to be honest about running late. But avoid messaging apps, as this can make things worse – their unreliability and the fact that they don't offer clear trails of communication if you are talking in a group causes a great deal of confusion.
Flexible work arrangements
60% of employers in CareerBuilder's survey said they expected employees to be on time every day, while 18% said they didn't mind as long as the work was completed. This aligns with the fact 70% of employees stay late on days they arrive late. Being slightly flexible with work hours can be a great way to attract talent and retain employee loyalty, as long as you set expectations. If priorities are work completed, set grace periods for tardiness.
An employee orientation in your workforce looks after them, which in turn looks after your business. Running late can make timesheets messy. Make approvals timesheets easier on yourself by using software that generates timesheets for you and allows you to set grace periods and rounding rules.
Life happens to everyone. Whether it be health issues, traffic, or a burst pipe under the sink, some lateness is expected and excusable. But by establishing open lines of communication and providing rostering information in a clear and accessible way, you can reduce employee tardiness in foreseen circumstances. And just remember, if they say there's a lion escaped from the zoo – they may be telling the truth!