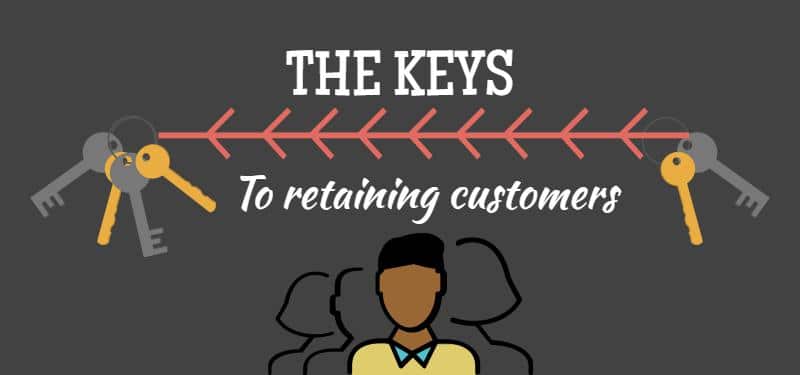 Keys to Retaining Customers
Customer retention is absolutely pivotal to maintaining a steady business. As an owner you should prepare for emerging rival business, drops in the market, rising costs and any other factors that could potentially push customers away. Some of these things are simply unavoidable, however there are measures you can take to encourage and implement customer retention.
Maintain Contact and Connection
If you put a lot of effort into drawing in customers initially, you'd be a fool not to maintain their interest. Preventing a stale relationship with your customers can be as easy as an email or phone call. Being personable whilst regularly checking in on your valued customers is a recipe for success. Routine contact with a business will remind a customer of the business's value, especially if their past experience has been positive. Not only that, but a personal relationship with your customers will establish a sense of community and they will see you as a friend as well as a local businessman.
Be Proactive
The ability to anticipate someone's needs is a marvellous one. Like an apprentice knowing which tool to pass to their tradesperson, becoming proactive will streamline your customer service and reduce work for yourself and the punter. Everybody loves having their time saved and will thank you for it with their continued patronage. This will work particularly well when you surprise a customer, with their account already being sorted, or an order already having been put aside. Going the extra mile is always a good idea.
Reward Loyalty
Pyschological research shows that people enjoy being reminded of their loyalty, especially through "special" customer rewards programs. Giving them hints on the new special deals or a small discount will demonstrate their importance to your business. It's necessarily about the money but the thought that counts. Most of the time customers leave it is because they are unhappy about a particular aspect of the service they receive. The better they are treated, particularly those who are regulars, the less attrition you will encounter.
Know Your Product
You are the expert. You have to know your workplace and goods inside out. This can be the difference between you and the store next door. Establishing a trust between yourself and your customers will become easier if you can provide great service. However, it is also important not take advantage of such a situation, particularly if you work in a field not properly understood by many people: IT for example. It can be easy push a particular product or convince customers of certain truths, though this should only be done so if they are getting what is best for them.
Check What The Customer Really Wants
Talk to the people who walk through your doors about what they want to see in your business; after all, they are the ones investing in it. This is not to say you should take all entrepreneurial advice from everyday people, but listening to the request and ideas of your customers can lead you to grow your business in ways you may never thought of yourself.