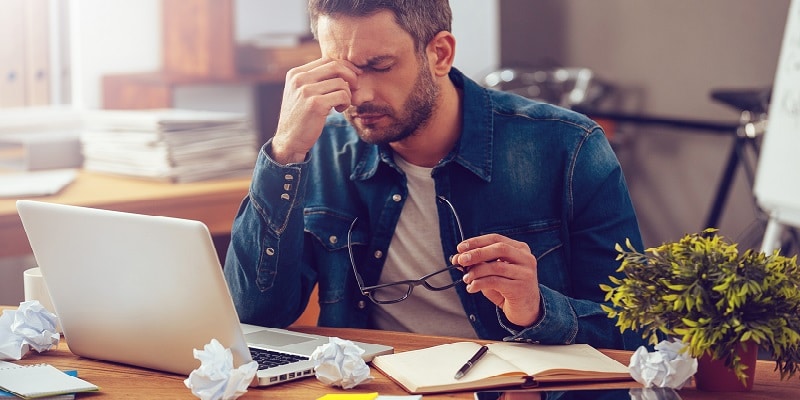 Why a rostering system is a must for your business
As humans, we are pre-disposed to making mistakes. Whether it's something as simple as forgetting your wallet on the way to work, or slightly bigger mistakes like forgetting your Bitcoin password or turning down JK Rowling's new manuscript, mistakes happen.
Not all mistakes are bad, though. Penicillin, Silly Putty, and the microwave are all examples of mistakes that became successful inventions. Studies have even shown making mistakes helps children to learn.
But repeated mistakes can be costly and unnecessary, and manual rostering – where you use paper or spreadsheets to create rosters for shift-based staff – is a task fraught with them. There are a number of problems and mistakes that can arise from manual rostering that are hurting your business.
Compliance errors
Modern Award compliance errors occur when your company is in breach of government regulations regarding working conditions. Modern Awards are complicated to interpret, and with multiple employees who may be on different Awards, it can be difficult to keep track. Beyond making employees irritated, scheduling employees outside their statutory working hours, or not taking into account holidays or using overtime correctly can have serious repercussions for your business and employee satisfaction. This is particularly the case when incorrect rostering which doesn't comply with Modern Awards results in underpayment. Employees have a right to report to the Fair Work Ombudsman if they feel they are not being treated in accordance with Modern Awards, and a claim can be costly and reflect poorly on your business.
Rostering people on at the wrong time
Rostering requires a lot of back and forth, checking unavailability requests, previous schedules, and work requirements. Requests can come in through a range of mediums, from slips of paper to emails, and it's easy to lose track of it all in your head, resulting in errors. These mistakes don't just leave you short-staff in the short-term, continual rostering errors can have an adverse effect on staff retention. After all – you'd be annoyed too if you were consistently rostered on at the wrong time or after you had made a formal leave application!
Losing paper rosters and emails
Assigning physical paper rosters, or even sending rosters out by email can be risky. Having only one copy of the timesheet opens up the possibilities of your staff losing the slip of paper, deleting the email, or having it sent to junk mail. One sheet of paper can easily become misplaced among a myriad of other paperwork on a kitchen bench or at the bottom of a bag.
Lost productivity
It's no secret that time spent in an office creating and amending rosters could be better served out managing your people. Employees benefit from having communication and contact with their superiors, much of which is lost when you are hiding in your office fixing rostering issues.
Low staff morale
Constant changes or errors in rostering, such as not taking leave and unavailability requests into account can lead to disenchantment with the workplace. Employees want to believe their concerns are being heard, and being constantly mismanaged does not instill confidence or a desire to demonstrate loyalty to their employer.
Mishandled and incorrectly assigned skillsets
By not having the right skills rostered in the right area, you are losing productivity, and frustrating employees in positions they are not qualified for. While training employees to be able to function in all areas of your business can be beneficial, it's not always possible. Placing employees in a role without the necessary skills means they may flounder – and so will your business.
Exceeding staffing budgets 
If you don't have the data you need to understand the peaks and ebbs of business demands you may find you consistently overshoot your budget by rostering too many people on, or use overtime unnecessarily. Manual rostering doesn't give you visibility of labour efficiency and labour costs, leaving you in the dark and hurting your bottom line.
The answer is using a rostering software system
Manual rostering is clearly not the most efficient or frugal way to manage employee time sheets. It can be confusing and difficult to update, and the lack of clarity can be detrimental to both employee satisfaction and your finances.
Many businesses don't realise the sheer amount of time they spend planning and editing rosters. Many of us have external commitments, from dentist appointments to childcare. Keeping track of your own schedule is hard enough, let alone the commitments of dozens of employees.
Rostering software is another important way in which automation is saving businesses time and money. It can help your business comply with Modern Awards in terms of working hours regulations, overtime and pay, and includes full award interpretation as soon as employees are on board. Rostering software also has the functionality to compile leave and unavailability in one place taking out the effort of cross-checking leave requests, emails and text messages.
Anthony Joseph is the manager of PS. Café at One Fullerton, and has been using rostering software in place of manual rostering. "It saves me time, it's efficient. I'm able to plan my schedule correctly and one top of that I'm able to cost it out and I know what I'm spending for a week which helps me and my business."
Software like Roubler's online rostering software does the maths on pay rates, overtime, or complex arrangements such as higher duties on split shifts. This means removing human error as it automatically tells you if your rostering has resulted in a compliance issue. With changes and updates occurring so regularly to workplace standards, Roubler's software will automatically integrate updates by Fair Work Australia, removing the need to constantly check for legislative changes.
With these complicated calculations taken care of, you can instantly see if you've met your staffing budget and if your roster offers you the best labour efficiency for your money.
The best bit? Communication is all taken care of: rostering software automatically sends rosters to staff via a smartphone app. Employees can swap shifts and have the roster automatically update, meaning there is no chance of losing a paper roster.
We all make mistakes from time to time. While they may not be as massive as invading Russia in winter (we hope!), it's important to learn from them. Rostering software highlights your mistakes before they have a chance to cause problems, and gets you back to the important task of running your business in a way that keeps your employees and clients happy.