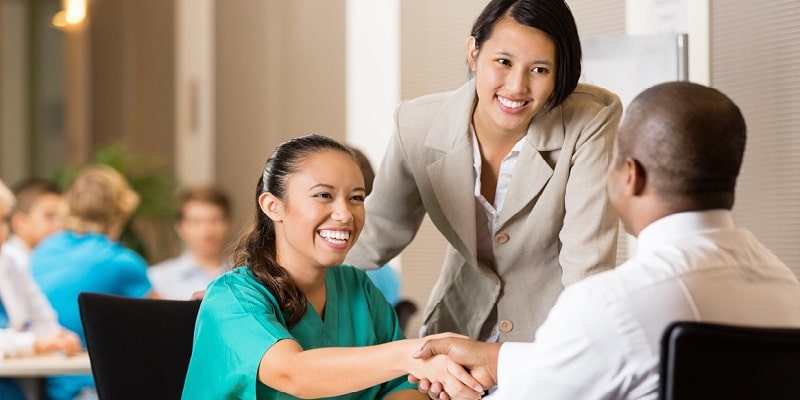 4 Ways to Improve Talent Acquisition
Talent acquisition is a difficult thing to get right, as it doesn't just involve hiring candidates for open positions. The ultimate goal is to create the best fit, which requires hiring the right candidate.
The healthcare industry is no different. One of the complicated problems facing the healthcare industry today is the ability to source qualified talent in an increasingly competitive job marketplace.
The healthcare industry is facing one of the largest deficits in recent memory between the number of open positions, and the number of qualified candidates who are available to fill those positions.
This puts HR departments in the hospital and healthcare industry in a tight spot, as hiring the wrong candidate can cost thousands of dollars in the on-boarding and training process, only to be forced to do it all over again when the appointment doesn't work out.
Moving forward employers, recruiters, and hiring managers need to change how they view hiring potential candidates.
Increasingly, companies can no longer look at talent acquisition as the process of hiring candidates in the short-term for open positions. Instead, employers need to look at talent acquisition as the process of hiring and training a candidate who will grow and develop into a valuable resource for the foreseeable future.
Talent acquisition isn't cheap and requires substantial investment from all parties involved: employers, hiring managers, and recruiters. As human resource departments are increasingly asked to reduce expenses involved in hiring and training candidates, HR managers are looking for ways to do more with less.
One of the best ways to reduce this costly endeavor of hiring the right candidate is to improve talent acquisition procedures. We have outlined some of the key strategies you should use to improve talent acquisition for sourcing qualified candidates.
1) Reduce Turnaround Time
One of the best ways to improve talent acquisition is to reduce turnaround time. One glaring problem that human resource departments have found with the growing millennial workforce generation is the term known as ghosting.
Ghosting is the new term being used for employees and job seekers who demonstrate an interest in a position or job early on and then simply disappear – like a ghost. Human resource managers and employers are familiar with candidates who can sometimes be unresponsive, never reply, or skip out on work from time to time. But increasingly, job seekers and candidates are demonstrating this behavior to the point where it has become a commonplace term and occurrence.
Candidates often decide to skip scheduled interviews, reply to potential job offers, or leave interviews without indicating why. This is a massive problem for the healthcare industry, as healthcare organizations and hospitals attempt to cope with the recent change in hiring processes.
One way to potentially solve this problem is to reduce the turnaround time in communication between healthcare job seekers, and the HR department.
Increasingly, job seekers are growing impatient with old recruiting practices. The old recruiting practices included waiting weeks until the job posting had ended and all potential applicants had been screened before sending out follow-up emails or making phone calls.
The job marketplace is so competitive, that there are more open positions than available job seekers. This means that in the time it takes for you to reply to candidates about their application, resume, or cover letter – they could have already been interviewed and hired by a competing organization.
One way to reduce the number of candidates who demonstrate ghosting behavior is to follow-up with them sooner. When you follow up with the candidate sooner, you demonstrate that you appreciate the application they have provided, you can gauge whether they are truly interested in the position, and can set an interview date.
A lengthy turnaround time creates the impression that the candidate's application was denied, or no longer considered – and they move onto other jobs they are interested in. This means that healthcare companies and hiring managers are missing out on qualified talent because their turnaround time is too long.
2) Highlight Growth Opportunities
Another way to improve talent acquisition effectively is to point out the various growth and development opportunities the candidate can receive.
Increasingly, job seekers aren't just looking for a job. Job seekers are looking for employers who will make a commitment to growing them into a more well-rounded employee. Becoming a well-rounded employee includes offering new educational pathways, an increase in their professional skill set, and an opportunity to become a leader amongst their peers.
A great way to improve talent acquisition is to ensure that you highlight these benefits to candidates in both the job posting and the interview process.
Candidates are much more likely to consider a potential job if they feel they are going to become a more well-rounded individual through the course of their employment, instead of just receiving a paycheck at the end of the day.
3) Use Data-Driven Insights
The next method to use when you are attempting to improve talent acquisition is to use data-driven insights. Increasingly, HR departments in hospitals and healthcare facilities need to use data to drive effective and efficient decision making.
The same can be said for sourcing and hiring qualified talent. There are plenty of tools available that can help make talent acquisition easier for the hospital or healthcare facility through the use of data that can identify trouble areas in the hiring and training process.
Some of the useful data that is critical to improving talent acquisition is the cost per hire, time to fill jobs, the quality of hire, the internal hire ratio, and the ratio of offers accepted to offers declined.
Compiling this data will help recruiting professionals identify where some of the problems in sourcing the best talent is.
4) Consolidate your software programs
Another thing that can help improve talent acquisition is to get rid of the twenty different complex software packages you are using to manage candidates, employees, payroll, and recruitment initiatives. Far too often, companies are using a combination of different programs which can make it difficult for human resource managers to keep track of everything.
Qualified candidates can get lost in the shuffle between the programs. Not only do candidates get lost in the shuffle between the programs, but they can also cost thousands of dollars in licenses for the various programs at one time.
For instance, a candidate might apply through one application suite, and then it is up to the hiring manager to transfer the details of those candidates from one application to another. In many cases, qualified candidates can be forgotten or misplaced during the complex process.
One way to improve talent acquisition is to stop using twenty different programs and switch to complete packages with all the features that human resource teams need. Roubler offers all the features that human resource teams need to track recruitment initiatives, onboard candidates, manage employee schedules, track attendance, and payroll.
Conclusion
As the healthcare industry continually changes, hiring managers must change as well. The talent gap in the healthcare industry is one of the worst in history – and the key to improving talent acquisition is to use data-driven insights to identify areas of improvement.
Once you idenTify those areas of improvement, you can systematically reduce the expenses involved in hiring candidates that don't fit and can rest assured knowing that each candidate you select is an investment in the company's future.
About the Author
Ryan Bucci is a Content Strategist with HospitalCareers. HospitalCareers is the leading recruitment platform for healthcare job seekers. Healthcare job seekers can find over 28,000+ healthcare jobs, career advice, and career insights.