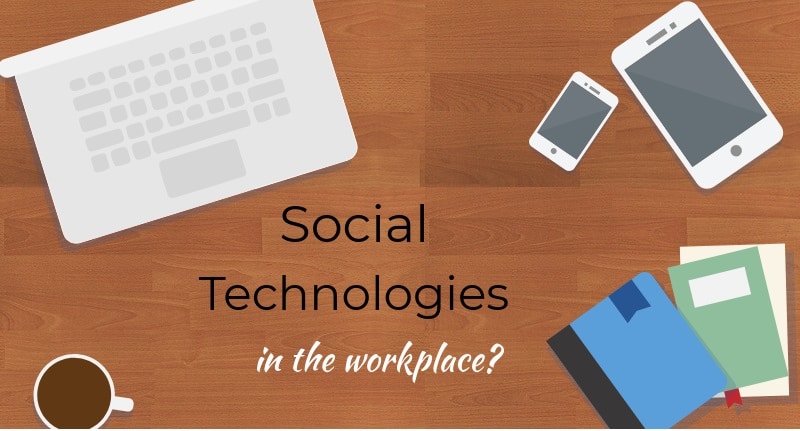 The rise of social technologies in the workplace
Only a few decades ago, communicating in the workplace was limited to a handful of channels. You could ring your co-worker, but not if they were using the internet. You could email them, but they wouldn't receive it until they finished using their phone. You could have a meeting, but you'd need everyone in the same place. Unquestionably, the advent of social technologies has changed the way we do business. It's changed the way we do everything. You can connect instantly with your friend from university who now lives in Dubai. You can send photos and files over video chat while having a face to face conversation. The possibilities are endless.
In 2013, Lee Hecht Harrison asked US workers: "What has been the most positive impact of social technologies in the workplace?" Almost 30% said "simplified communication," and 27% said "increased collaboration." There are multiple benefits to using social technologies at work: work hours flexibility, communication across time zones, closer co-worker relationships, and a greater knowledge base.
And these benefits are changing the way employees work.
Companies are beginning to implement their own message-based platforms, allowing co-workers to interact with each other in a less formal setting. A 2016 survey by McKinsey Global investigated the way employees use social technologies. 45% of respondents said social tools were highly integrated in their everyday work. In those companies that have their own platforms for messaging, social technology usage is particularly high. Almost 60% of the group already used  message-based platforms and shared document editing. This is in comparison to almost 30% of the group not using these platforms. Respondents using social technology spent less time writing emails or making phone calls, preferring to use new technologies to communicate such as shared online documents, applications, videoconferencing, and messaging services. Overall, these employees are more likely to adopt and communicate through all new communication technologies, not just the message-based service their company has initiated.
The cloud is becoming an essential part of everyday communications, and instant messaging is beginning to replace a number of old methods of communication. Social media is integrated in a number of professions. A Pew Research Center study found nearly 80% of employees use their own social media for work purposes. This includes building workplace relationships and solving issues they encounter.
In this online world, everything is becoming more streamlined. A number of companies are harnessing the idea of "bring your own device" (BYOD). This means helps to simplify the onboarding process, as new employees aren't required to learn a new device.
Social tools are not going away. Instagram continues to dominate conversations and markets. In 2017, the popular photo sharing app announced that its users under 25 spend over 32 minutes a day on the platform.
Many believe social technologies are the best way to help workplaces realise their untapped potential. What may seem like a way for employees to communicate instantly from anywhere could change the way meetings work. Collaboration can be achieved from anywhere, and productivity is poised to skyrocket.
Those already using message-based platforms over the last 3 years found employees have communicated more than those who have yet to adopt the systems. This means they are 15% more likely to communicate with those in other teams, or whose goals or functions are different. What's more, teams in workplaces with the platforms organised themselves more, without the help of outside influences.
Financially, these platforms are lowering communication costs and the time associated. Employees are bridging gaps that would otherwise have required outside intervention. They are taking the initiative to talk to others, solving problems without going to their superiors.
While workforce technologies are clearly helping this occur, the driving force is employees themselves. The initiative comes from them, it is simply the social technologies that help facilitate the change. With flexibility and communication, social technologies are enabling a new way of working to the benefit of the companies who embrace them.