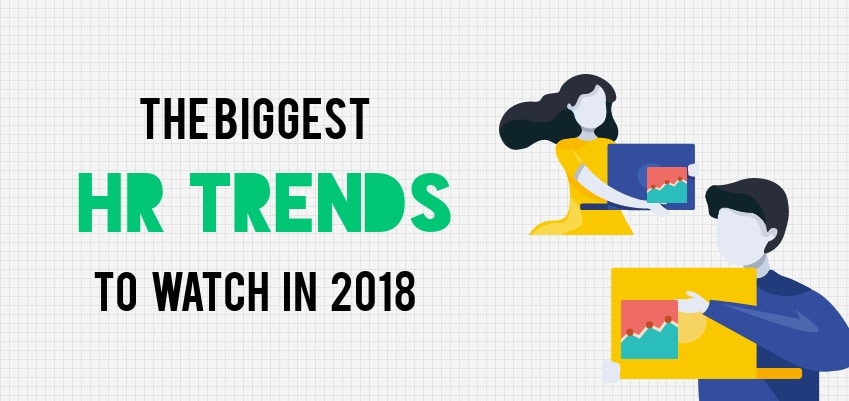 The Biggest HR Trends to Watch in 2018 
2017 has laid strong foundations for the integration of HR technology in the workplace, and 2018 is set to see even more growth in uptake. Throughout the past year, you may have begun to experience the benefits of automated HR. Perhaps it became that little bit easier to approve staff leave, or maybe you were less burdened by award compliance. You likely saved hours by eliminating manual data entry, and perhaps you improved your recruitment strategies with automation. As long as you're an adopter of HR technology, 2018 promises even more benefits. 
Here is what experts predict to be the key HR trends in 2018: 
Employees will seek 'experience management'
2017 saw technology-driven performance management become more prevalent in many workforces. This year, as even more tech-savvy millennials enter the workforce, managers and CEOs are expected to retain and sharpen focus on the "employee experience". The "employee experience" is more than just performance management – it also encompasses culture and engagement. Leaders will be expected by these employees to examine their journey within the company, and work towards reciprocal improvements. HR technology will be used to facilitate these conversations, providing insight into how employees have progressed, and how both manager and employee can enhance their performance.  
HR will be completely digitised
2018 will see many businesses finalise their HR system overhaul. HR researcher for Deloitte Josh Bersin explains that "just as many digital disruptors have toppled businesses in travel, retail, and other industries, we should essentially 'topple' our HR thinking with the adoption of digital solutions". It is no longer viable to run HR systems manually for many reasons. Firstly, employees are beginning to expect HR procedures to be seamless and automated, but more importantly all-encompassing. Staff are seeking leave, payroll, and personal details to all be managed within the one platform, as opposed to juggling several systems.  
Furthermore, spending company time and money on manual HR procedures will simply set your business behind the competition. You cannot expect to recruit the best employees manually when other businesses are snapping up star players in seconds using intelligent technology. If you're starting up a business in 2018, skip legacy procedures altogether and implement automated HR systems from the beginning. 
People analytics will become an integrated feature of management structures 
In 2017, people analytics surpassed its isolated, specialty use by data experts to feature in many workplaces. In 2018, people analytics will be challenged to go further than simply assessing current procedures and representing them in graphs and tables. It will now be an actionable workplace tool implemented to make choices regarding recruitment, rostering, and budgets. Research by Forbes found that throughout 2017, 69% of the organisations surveyed had actively considered or integrated people analytics into their operational structure. This was massive growth on the 10-15% adoption seen in previous years.  
As an integrated features of workforce management, people analytics (also known as business intelligence in some industries) will assist businesses in bridging the gap between leader expectations and employee performance. However, businesses shouldn't expect overnight results. Experts explain that implementing people analytics requires a prolonged period of dedication before experiencing tangible results. However, the results that will arise will be highly beneficial. 
A demand for more efficient recruitment processes
According to the BBC, we are currently experiencing a "gig-economy". The BBC explains this as "a labour market characterized by the prevalence of short-term contracts or freelance work, as opposed to permanent jobs". Not only does this increase the number of times a company will have to hire new staff, but it means there is more talent competition. 
As short-term contract work is on the rise, recruitment procedures will need to be streamlined even further in order to fulfil these positions. Finding and onboarding the best-fit employees needs to happen in the smallest time frame possible. Furthermore, there will be more pressure on these processes to detect best-fit applicants with the relevant skills and culture fit.
 
If you want to know to start 2018 on the right foot, get in touch with Roubler today. Our automated HR software is prepared for all the upcoming HR trends, letting you hire, roster, manage and pay with ease.