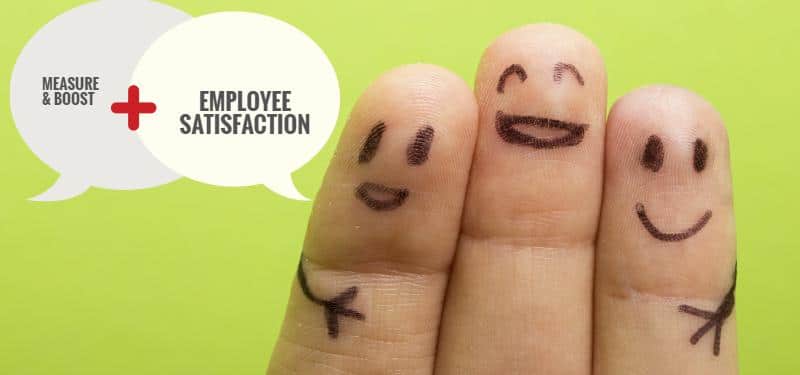 How to Measure and Boost Employee Satisfaction
We all want to be satisfied. Whether it's your dream vacation, achieving a life goal, or that new car you've been saving for, people care about experiences that satisfy them. Is your job one of them? As a manager or leader, your business needs satisfied employees to thrive. You need people who are motivated and excited to show up to a company they genuinely care about.
Imagine if your employees could be:
Happier and more driven.
Even more productive.
Better at collaboration.
Positive, genuine advocates of your brand.
Loyal to your company, reducing employee turnaround.
Wouldn't that have an amazing effect on your company? If you take a moment to measure and boost employee satisfaction, the benefits will snowball into a better, stronger company.
Step 1: Measure
If you can pinpoint levels of employee satisfaction in your workplace, you can pinpoint your weaknesses and take action.
One-on-One Conversations
It's easy for people to feel like just another face in the crowd at work, but personal relationships and one-on-one time with your employees will make a huge difference. Let your employees know they matter to you by carving out some time in your busy schedule for one-on-one conversations. Leave your agenda at the door, and focus on your employee as a person by using open-ended questions and active listening techniques.
How often?
Weekly, monthly, or quarterly, depending on your business and preferences.
What should you ask?
(Here's some we prepared earlier)
What are we doing well and what could be improved?
If you could, what one aspect of your job would you change?
What skills and abilities do you wish you could use more often?  
How successful do you think the team is at working together? How can we improve?
Where do you see yourself in five years? (If it's not within the company, then why?)
Surveys
Online surveys aren't just for procrastination, they're also amazing tools for getting honest responses out of your employees. Let your employees fill them out anonymously and any fears they have about expressing themselves will disappear. You'll get honest data to work with and some easy quantitative data too, such as percentages of employees who are and aren't satisfied.
Roubler's top quick picks for surveys are Google Forms, TinyPulse, 15Five, SurveyMonkey or any other survey tool. Send out an email with the link and await the results!
Keep Informed
It's easy for dissatisfaction in the workplace to go unnoticed if you're not actively looking for it. Employees can often be too intimidated to be honest with their employers, and it's important these people don't fall through the cracks or feel unappreciated. To help avoid dissatisfaction in the first place, make sure you:
Research your competition and offer a competitive salary.
Ask your friends and family about their own job issues.
Collaborate with other leaders in your company to measure and increase employee satisfaction.
Step 2: Boost
Now you know the current satisfaction levels at your company, I want you to make a mental note of them (or a real note, or a note in your smartphonne, or-just remember it, okay?). Because now you're going to take action to make sure your satisfaction levels only go up from here.
Solutions Not Bandaids
No quick fixes or cover-ups here. Workplaces need to be satisfying as a whole, and (unfortunately) the occasional pizza party or office drinks aren't enough to satisfy employees. These sudden, grand gestures (much like pizza) will only create short-term happiness, and will not give you the content, motivated, satisfied employees your business needs. Attacking the real issues will allow employees to see their feedback in action, building their satisfaction and loyalty. Employees feeling overworked? Find a way to rebalance the workload. Employees feeling underpaid? Take action to increase salaries.
Take a Leap
Or rather, take calculated risks. If your current rates of employee satisfaction are dangerously low, don't be afraid to make big changes to get big results. I love snacks and parties as much as the next person, but the reality is that employees can survive without them. However, your employees will suffer if they feel overworked, underpaid, and undervalued. If little changes aren't going to get you where you need to be, have the confidence to take risks.
Phone a Friend
It may be time to bring in the big guns: a professional consultant, organisational psychologist or executive coach. Being a great leader isn't all about doing everything yourself, and sometimes a fresh set of ears and eyes will pinpoint something you've missed. These coaches will give you a personalised, tangible action plan for improvement. They're experts at running sessions and workshops, taking surveys, and identify your next move.
Don't Forget:
Keep it light when you're trying to improve satisfaction, or you may go backwards. It's important your employees know that your questions and actions are a pathway to improvement, and not a sign that their job is in jeopardy. Avoid getting heavy and confrontational, and in return you'll get honesty and their active participation in the process.
Employee Satisfaction Shapes Your Company
If you want to build a great company, you need people who love coming to work. Every company wants the ideal employee, and every employee wants the ideal working environment. As a manager and a leader, you have the opportunity to create an environment that will increase employee satisfaction. Measure it, boost, it, and you're on guaranteed path to reducing employee turnover, increasing productivity, and building a greater, stronger company.
What's worked in your company to increase employee satisfaction?
Or, if you're an employee, what increased your satisfaction at work? We want to hear from you!