Save time and Download your Job Description – Business Analyst
Business Analyst Job Description
Download Roubler's Business Analyst Job Description template below.
This business analyst job description template is made for you to use when recruiting a new business analyst for your workforce. The business analyst role template is easy to upload to online job sites and careers pages, and can be tailored to reflect the specific needs of your business. In this template, we detail a role outline for a business analyst, as well as key duties and responsibilities, and skills. We've left a space for you to give some information about your company, as well a place to provide your best contact details. Find the perfect business analyst for your business today. Download the job description outline below to tailor to your company's requirements.
JOB DESCRIPTION Business Analyst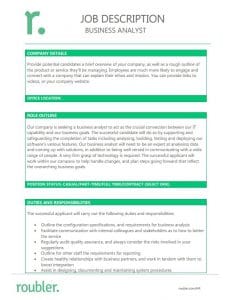 ROLE OUTLINE
Our company is seeking a business analyst to act as the crucial connection between our IT capability and our business goals. The successful candidate will do so by supporting and safeguarding the completion of tasks including analysing, building, testing and deploying our software's various features. Our business analyst will need to be an expert at analysing data and coming up with solutions, in addition to being well versed in communicating with a wide range of people. A very firm grasp of technology is required. The successful applicant will work within our company to help handle changes, and plan steps going forward that reflect the overarching business goals.
DUTIES AND RESPONSIBILITIES
The successful applicant will carry out the following duties and responsibilities:
Outline the configuration specifications, and requirements for business analysis
Facilitate communication with internal colleagues and stakeholders as to how to better the service
Regularly audit quality assurance, and always consider the risks involved in your suggestions
Outline for other staff the requirements for reporting
Create healthy relationships with business partners, and work in tandem with them to boost integration
Assist in designing, documenting and maintaining system procedures
Frequently identify the common sources of technical problems, and provide solutions to rectify these issues
Detail key findings to the team responsible for the product
Always be on the alert for potential issues, and ways to better service the customer
Assist the internal team with implementing recommended product changes
REQUIREMENTS
The successful applicant will have the following experience and skills:
Minimum two years' experience in a similar role, such as Business and Systems Analysis or Quality Assurance
A tertiary degree in Information Technology or Computer Science
Exceptional technical ability
A proven record outlining business changes and testing
Previous experience assessing data to inform business decisions
Familiarity with data visualisation tools and methods
Comprehension of creating process documentation
Ability to function highly in groups
High level communication skills, written and verbal, and the ability to write technically
Please provide a full cover letter and resume to the manager to be considered for this role.