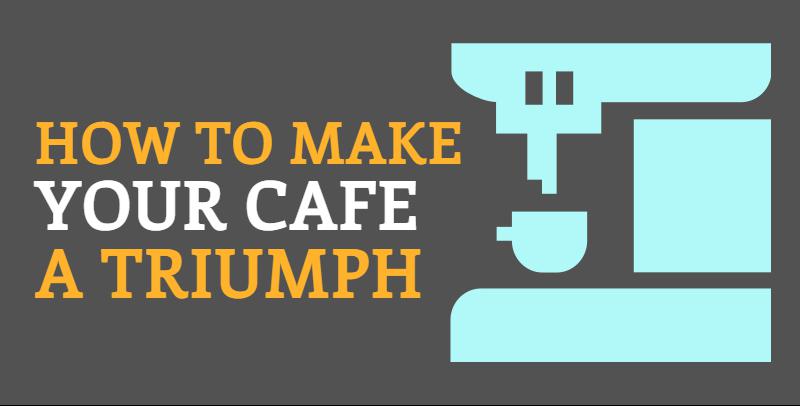 How to make your café a triumph
Small business – Big ideas
Running a small business is an incredibly difficult prospect. As the boss, it will become your life. You are the engine of the workplace, the one that makes it all tick. You need to throw your heart and soul into it. You set the standard.
If you're running a small business that is a café, there a plenty of ways for you to make it the best it can possibly be.
Look after your staff
When running a small business, staff are so important. This cannot be over stated. A good workforce will make everything else in your life that much easier. Start by providing them with good training, preferably from yourself so you can set the standard. Then give them quality working conditions and active support. Show them respect and you will have theirs. Also, make your employees aware or your business plan; how you intend to grow and what direction you will take. Inclusivity is key to gaining and maintaining trust.
Set standards and protocols
Consistency is key. Make sure you and your staff have a routine and that a high quality of service is met. Find coffee that tastes great and don't compromise on presentation – after all, it's the little things that count. People who drink coffee each day know what quality is, and they will not come back if you serve dirt in a cup. If you are doing meals, make each one as good as the last and utterly refuse to serve anything that isn't fresh. It's a tough business to be in but good food and coffee will bring the locals back to you every week. To help ensure all this actually happens, you should set up the shop well. Smart ergonomics will help your staff work efficiently and give the best service possible.
 Customers are cash. Most cafes aren't profitable for at least six months after they open. In order to acquire adequate cash flow, you need to create a strong, loyal customer base. This can be achieved through quality service and offering special services and rewards. Loyalty cards are a perfect example. They encourage customers to return and are cost effective; just make sure they are durable and stand out; that way they won't be forgotten about in the back of a wallet.
Spend money where it counts!
Good machines and good beans should be your mantra. If it's at the heart of what you do, it should be the first thing you spend money on. That being said, ensure you are a market conscious consumer. Being savvy with your purchases can get you quality at a reasonable price. As a small business, the one other thing you should think about sending money on is your local community. It is after all, the demographic you are aiming for. By investing in local sports teams or supporting a charity you generate good will and are seen as a positive influence in the area. This will help the community rally around you when need be.