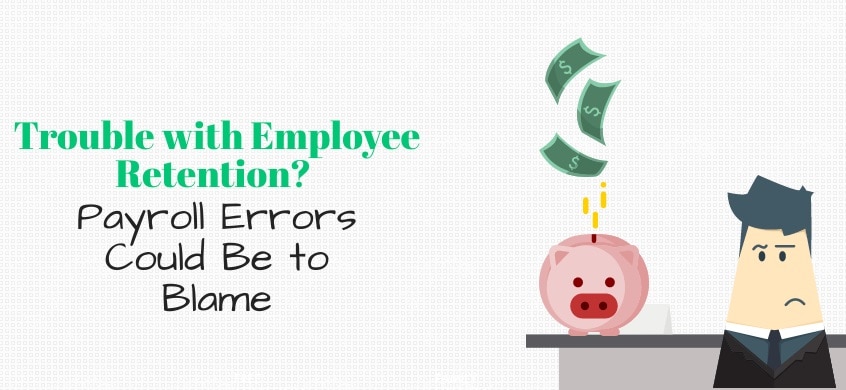 Trouble with Employee Retention? Payroll Errors Could Be to Blame
Employee retention, as we have discussed before, is a contentious issue. You spend time, effort, and money recruiting and onboarding the best talent for your business – you don't want to be on the hunt for replacements after only a few months. Better employee benefits, improved work spaces, and more home-life flexibility will certainly help keep employees around. However, sometimes the basics are just as key. Payroll, for example, is often overlooked as a method to improve employee turnover. Recent research suggests payroll processes may actually be a key driver behind whether employees quit, or work on. 
According to research by The Workforce Institute, it may take just one payroll error for staff to consider seeking new employment. We examine the figures, and look at methods to improve employee retention.  
Payroll errors all too common
The research found that errors in employee pay are very common: 
54% of those surveyed had experienced errors in their pay

 

26% of respondents had been underpaid in the past, 15% had been provided their pay late, and 6% have been paid too much

 

On average, employees would need to be paid at least an extra $463 before alerting employers to the excess cash. If several errors are made in one pay run, this would equate to a massive wage overspend 

 
Even small errors can put employees in financial difficultly 
The Workforce Institute found that despite correcting payroll errors in the next pay run, employees can still be placed in financial difficulty: 
37% of respondents had paid a bill late (such as a car loan, mortgage, credit card, or rent) as a result of incorrect pay

 

Employees on a salary are more likely than hourly-paid employees to pay a bill late due to a payroll error

 
Payroll errors lead to high employee turnover
The research by The Workforce Institute found that errors in payroll can very quickly cause staff to question their employment. The findings include: 
49% of respondents would try to find new employment after experiencing two payroll errors, including being paid the wrong wage, or being paid late

 

24% of respondents would try to find new employment after just one error in their payroll

 

Employees on a salary are more likely to seek new employment after an error (versus those paid per hour)

 

30% of employed parents will start the job hunt at the first error made

 
It was also discovered that managers play a key role in dealing with payroll issues: 
26% of respondents noted that they would first discuss their incorrect pay with a manager, supervisor or boss for correction

 

19% of respondents said they would report to a HR manager to rectify the issue

 

7% of those survey said they wouldn't report the payroll error, whilst 4% said they wouldn't even know who would be able to assist them

 
Furthermore, the study uncovered that whilst Baby Boomers can forgive errors, younger generations are less tolerant: 
44% of respondents over 55 years of age said they would not consider new employment as long as the pay was rectified. This figure dropped to 27% for those aged 40-54, and drops again to 17% for those aged 30-39.

 

Only 13% of those surveyed aged 18-29 said they would want to stay in their current employment if the payroll error was corrected. As Baby Boomers retire and more Millennials enter the workplace, this means that there is more chance that staff will quit after a payroll error.

 
The conclusion? Payroll plays a large role in employee satisfaction – and retention
Increasingly, businesses are investing in varying kinds of employee benefits – nicer workspaces, more internal recognition, and even financial incentives. Whilst these benefits will undoubtedly appeal to employees, the essentials need to be covered first. This data proves that ensuring your payroll processes are up to scratch should be high priority. Not wanting to stick around after a payroll error is about more than just money – it's an issue of trust. Employees trust that for their hard work each week, their employer will remunerate them. Being underpaid or paid a week late breaks this trust, and leaves employees questioning the relationship they have with their employer. If it takes only one payroll error to make one of your best talents consider jumping ship, then payroll errors need to be eliminated completely.  
One of the easiest methods to tackle this issue is to implement intelligent payroll software. With the right software, each pay run will operate smoothly with payroll errors a thing of the past. If you would like to know more about comparing payroll solutions, you can read our guide here. 
Roubler provides accurate, on-time and fully compliant payroll solutions for every business. Improve your employee retention by implementing the very best in HR technology and payroll software. If you're looking to eliminate payroll errors and retain your talent, get in contact today.