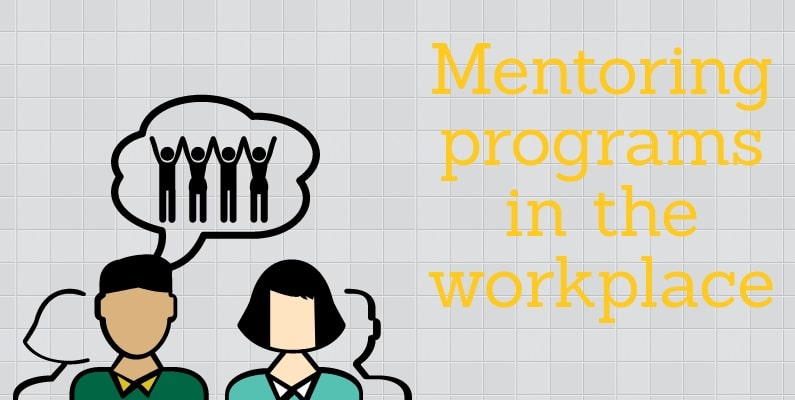 Mentoring programs in the workplace
Mentoring programs see experienced staff in a company providing guidance and personal support to less experienced team members. They can be hugely beneficial to a business in a number of ways. Typically, the mentor/mentee relationship is a one-on-one arrangement, where the mentee is guided through skills and career development, as well as professional growth in soft skills. They also bring a well-organised transfer of skills (in both directions) between the mentor and mentee, for the benefit of the company.
Establishing a workplace mentoring program
Starting a mentor program within a business can be both formal and informal. Informal programs may see senior staff working with junior employees for general training and development. This can prepare existing managers for further advancement and provide a number of points of training for new employees. In formal mentoring programs, the business may develop in-depth programs to match employees and suitable mentors based on interest or skill areas. These programs define roles and expectations and formalise a structure for assessment and evaluation of the program outcomes.
In some instances, formal mentor programs may even include the engagement of external industry mentors.
Where formal mentor programs are initiated, the business should:
Be able to clearly articulate what the program is trying to achieve, or the problem it attempts to solve.
Engage mentors early and discuss what expectations are of them (and what they are not expected to do – this can be just as important).
Develop assessment tools, to monitor whether the program achieves what it is designed to do.
Schedule meetings and activities between participants.
Ensure the resources are available to make the program meaningful for all participants, (this may include training documents, available meeting space, the time to complete activities, etc.).
Developing a new business mentoring program is likely to be an iterative process. Make sure there is enough flexibility built in so that the program can adapt where needed, but not so much flexibility that mentors and mentees have no structure.
Benefits of a mentoring program
Mentoring programs carry inherent benefits for both the company and the employees involved. Businesses expend significant resources training new staff in technical skills, as well as developing the sense of belonging and workplace culture.
An effective mentoring program allows the business to retain skills and cultures that have driven success in the past. It encourages spreading the training load across a diverse group of staff. It also allows new staff to begin their career development from the very beginning of their tenure.
From a recruitment and onboarding perspective, a well-established mentoring program helps human resources and recruitment staff to attract and retain top talent for the business. Aircraft manufacturer Boeing has had a long-running, successful mentoring program. The company says it "fortifies the pipeline" to maintain existing skills within their incoming workforce and helps develop diverse leadership in the company.
For staff, there are a range of benefits having access to mentors. During onboarding, as the company brings on new hires, current staff are prepared to be rapidly redeployed and training for incoming employees is expedited.
Workers are actively involved in the succession planning process as mentors help cultivate future leaders and mentees can visualise their future with the company. Morale and satisfaction gets a boost as new ideas and innovation develop as a result of the partnerships.
Recruiting for a workplace mentoring program
There are a few considerations for companies wanting to match mentors with mentees. Mentors should be recruited voluntarily. Where staff are forced into mentoring relationships, they may be reluctant to participate fully and may do more harm than good. For mentors that do volunteer, it may be useful to complete a skills assessment to provide a good match for mentees.
Success in any new workplace takes time. Allow the mentoring program to have flexibility to change. Being open to suggestions from participants will ensure your future business leaders have the best possible opportunity to benefit both themselves, and the company.