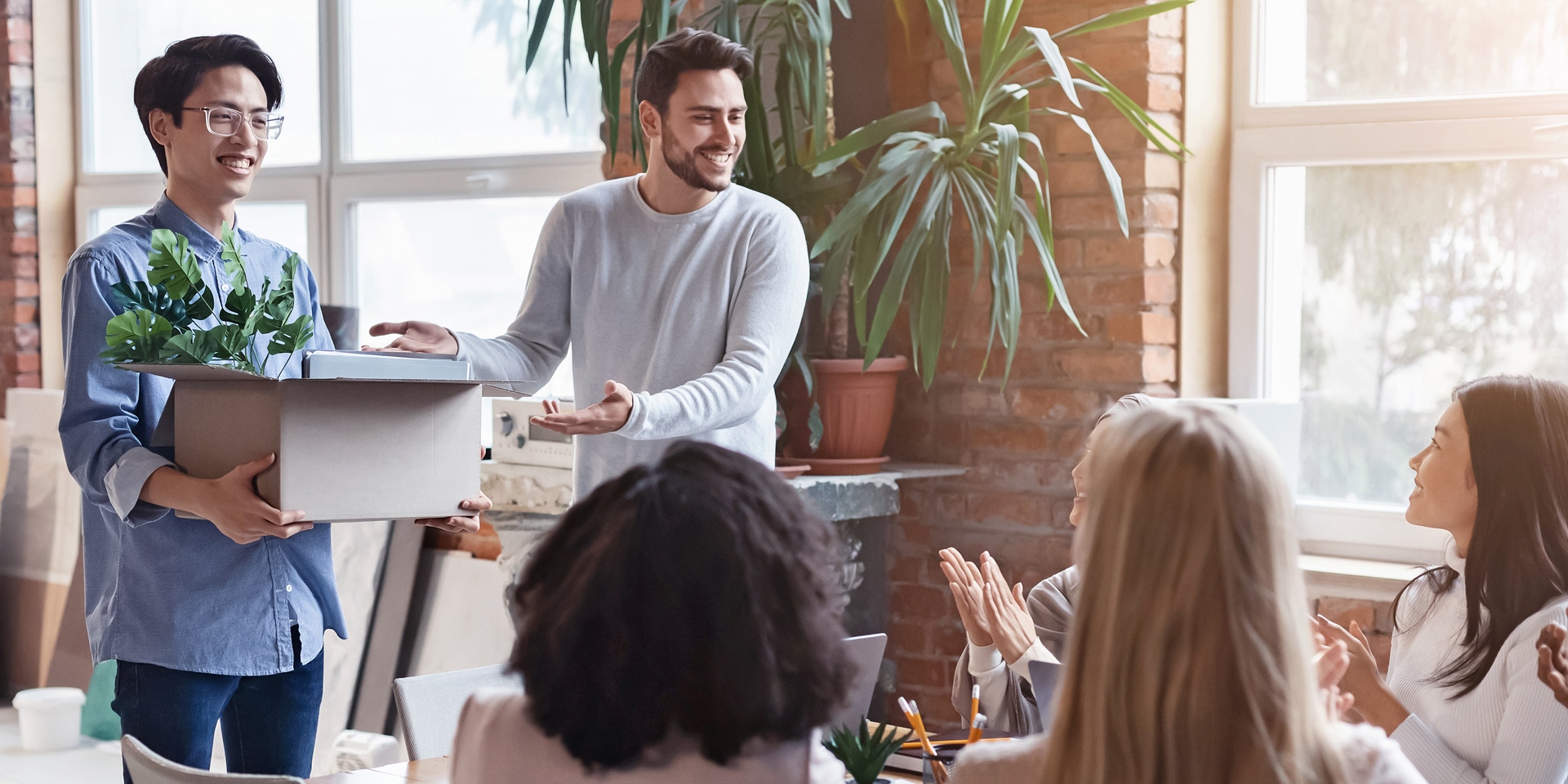 Four ways to create a successful employee onboarding process
Onboarding, induction, orientation – whatever you choose to call it, there's no escaping the fact that the way you welcome new staff to your team has an essential part to play in their engagement and performance over the longer term.
Many businesses lay a solid foundation for customer onboarding, introducing them to the product or service they've just signed up to and demonstrating how valuable this new relationship is going to be. So why don't more businesses give new employees the same quality experience? After all, a strong onboarding process has been proven to improve employee retention by 82%.
You don't get a second chance to make a good first impression. Most employees believe the HR onboarding process sets the tone for their ongoing experience with a business and provides key insights into a company's culture. And with 33% of employees starting the hunt for a new job within their first six months in a role, it's crucial to ensure all the hard work you've put into finding the perfect candidate isn't put to waste.
Finding the right candidate was a long and costly process in itself – all the planning, advertising, reviewing, and interviewing for the role – you don't want to lose the talent you've just hired because of a poor onboarding experience.
Remember, you're not just hoping you've hired the right candidate; they're also hoping they've joined the right team. Your onboarding process doesn't have to be as state-of-the-art as Deloitte New Zealand's, for example, but it does need to feel genuine. This is your chance to show your new team member that the grass is already green.
Start with an onboarding plan
A well-structured onboarding process will be invaluable to employees in the long run, while a poorly executed one may make them feel as though you've set them up for failure. We've put together the only employee onboarding checklist you'll ever need, so make sure you download it today.
Be sure to prepare login information, any devices and hardware they will need, uniforms or company branded merchandise and stationery ahead of time. Within the first day or two, provide them with information about your products or services to help get them excited about your offering.
Onboarding doesn't stop there. Let employees know what they can expect from being part of your team. Give them a rundown of company history and values, milestones achieved and to be achieved, any flexible working arrangements, policies and procedures, birthday perks, upskilling and development programs, team building activities, and local haunts. Worried you'll forget something? Don't worry – we've prepared this handy checklist to help you structure your onboarding.
On top of that, make sure you introduce your new recruit to rest of the team and explain who does what in the organisation. Give them an in-person welcome if they're based in your local office, or e-introduce them to everyone if they're a remote team member or if you have offices in multiple locations.
Take paperwork out of the equation
Remember that checklist we provided above? How many of those tasks will end up being paper-based? Unfortunately, the answer is probably: most of them. Mountains of paperwork are still a daily reality for most organisations, particularly when it comes to onboarding.
Luckily, there are modern solutions in place to combat corporate paper waste. With Roubler's employee onboarding feature, everything from an employee's contract, to personal information, to payroll, is 100% digital, which means no more paperwork to worry about when welcoming new employees.
Some of the benefits – other than the thousands of trees saved each year – include no manual data entry or doubled-up information, no hard-to-read handwriting, no errors, and data that is safely backed up in the cloud. In short, you'll spend less time on admin and more time providing your new employee with the most seamless experience possible.
There's another reason why an integrated system is good for business: employee self service. This is just a fancy way of saying you can empower your new employees to access the information they need anywhere, any time. With Roubler's mobile app, everything they need is at their fingertips from day one: self-onboarding, reading important company documents, checking their assigned schedules, managing expenses and more. Zero paperwork required.
Automate with onboarding software
Once you've eliminated paper waste from your practices, the next step is to automate your entire staff onboarding process and integrate it seamlessly with the rest of your employee lifecycle. With an all-in-one automated and integrated workforce management system in place, you're guaranteeing your business far greater scalability, security and savings.
Scalability almost sounds like a trendy buzzword, but is something that is critical to any growing business' success. Seamless software systems help your business scale up, minus the growing pains, by making it fast and easy to onboard multiple employees across different departments or locations – even remote team members.
Security is paramount these days. Having an integrated cloud-based onboarding program is becoming increasingly important, for one simple reason: the more employees you hire (thanks to aforementioned scalability), the more information you need to store – which could potentially put your business at risk. Enter secure cloud technology, safely backed up and protected at all times, and accessible from anywhere.
Saving time and money in your business is a constant priority, particularly at a time when the economy is not flourishing and purse strings are tight. With Roubler's seamless software your HR team will save hours manually entering data into your HR and payroll system, and reduce the risk of making a mistake resulting in back-and-forth between the new employee and the HR team. The good news is, you won't just save time – you'll also save money, as being able to onboard and manage your entire workforce via one seamless system means no more costly subscriptions for multiple platforms.
Go beyond week one
When it comes to onboarding new employees, most organisations only focus on week one – or worse, day one. You will have heard the term "employee experience", which Gallup defines simply as strategies to attract, engage and develop high-performing employees. Engaging employee experience – just like customer experience – starts at the beginning, carries on throughout the relationship, and includes regular intervals to check in.
On top of clearly establishing your employee's tasks and responsibilities, discuss with them early on what their goals and expectations are, and convey what your goals and expectations are of them. Remember these are not necessarily KPIs, and may even be more centred around their personal development as there is a direct link between personal growth and business growth.
It's also important to help your new employee ease into workload, rather than throwing them in the deep end. While we often look for employees who can "hit the ground running", bear in mind that they're still adapting to their new environment, team members, resources and processes. Allow them some time to adjust and provide gradual depth of tasks so that they can do their best work.
If you're hungry for even more ideas to help you go the extra mile with your HR onboarding process here's a few suggestions: assign a peer buddy to your new team member to help them get to know their colleagues, coordinate a 1:1 welcome breakfast with the CEO, and organise cross-pollination opportunities to foster diversity and innovation.