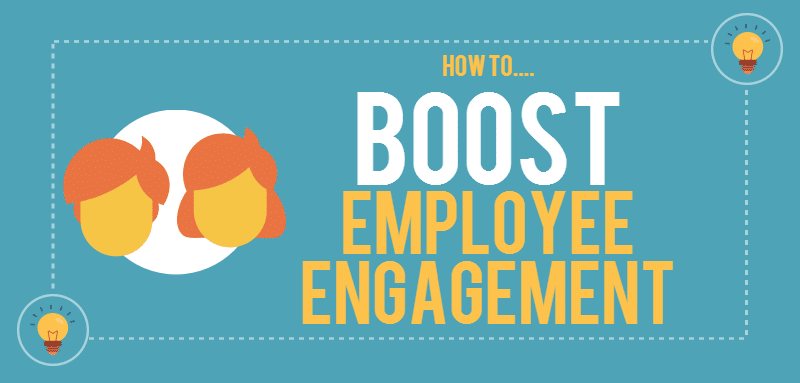 How to Boost Employee Engagement
Whether a business has 3 employees or 3000 employees, it is imperative you ensure their overall wellbeing within the workplace. There are always ways to improve your business. It certainly helps to gain some outside tips to increase employee engagement and guide your team in the right direction.
Why is employee engagement important?
Increase their productivity
Reduce staff turnover
Provide a high standard of customer service
Below are 8 strategies you can implement to further improve performance and employee engagement within your business:
1. Understand Their Motivations
One of the easiest ways to increase employee engagement is to get to know your employees. Spend time learning what motivates them and what their goals are. Listening is the key to demonstrating you care about their wellbeing. Being on a first-name basis with staff, especially in a large workplace, can be quite the task. However it is extremely vital that your workforce knows you are taking the time to get to know them personally. Set aside some time each month to take your employees to lunch or even just spend a few lunch breaks familiarising yourself with them. It can have a tremendously positive impact on their attitude and increase engagement in the workplace if they know you genuinely care.
2.  Empower Them to Discover Their Potential
Putting an employee into a situation where they aren't being micro-managed will inspire them to build on their confidence. It will assist them to thrive personally by being able to make and trust their own decisions. It is important to step back and observe, meanwhile allowing them to explore their full potential. The more empowerment an employee feels, the better they will perform. Trust is essential.
3.  HAVE FUN
Get your employees to write down a few things they like to do for fun. As a workplace, discuss the suggested activities and develop a bucket list that the group can work through together. It might be simple activities such as attending a sporting event, taking a trip to the local park for a BBQ or arranging a paintball excursion. Having fun as a workplace can assist the employees to bond and engage with each other and you.
4.  Encourage Workplace Competitions
Healthy competition within the workplace has the ability to bring employees together for a fun-loving office challenge. It could be an initiative as simple as a Football Tipping contest between associates or an office Olympics. Positive work relationships are a vital way to engage your workforce. It gives employees something to discuss other than work.
5.  Adopt a Charity
Participating in humanitarian events or donating to a charity has the ability to leave individuals feeling empowered. Successful companies have adopted the idea of assisting their local community through charity work to boost workplace morale. Not only does it reap benefits for the charity, it improves promotional levels and appeal within the public domain.
6.  Consistent  & Relevant Training
It is absolutely necessary your employees know exactly what their roles and responsibilities are. A large factor associated with disengaged employees stems from confusion over what jobs they must complete. Providing basic and on going training is a way to minimise confusion in the workplace. An employee will not be engaged if they do not understand what they are required to do.

7.  Feedback, Feedback, Feedback
Providing feedback for your employees is just as important as providing training. Conducting surveys is a great way for your employees to discuss what they might like to see changed or improved within the workplace. This is a way of reassuring them they have a voice and valid opinion. Share the results in a group meeting and let your team openly discuss suggestions to create action plans. The more you strive to improve the workplace, the more engaged employees will become. Especially if they are a part of the process
8.  Host One-On-One Meetings
It is important to be meeting with your employees one-on-one to discuss goals and/or issues at least once a week. You want to assure them that they are getting individual support and that they can freely talk to you about what they are working towards and even what they are struggling with. It is important that they feel comfortable being transparent with you and weekly chats can certainly aid this. The more productive an employee feels, the more engaged they become with their work.