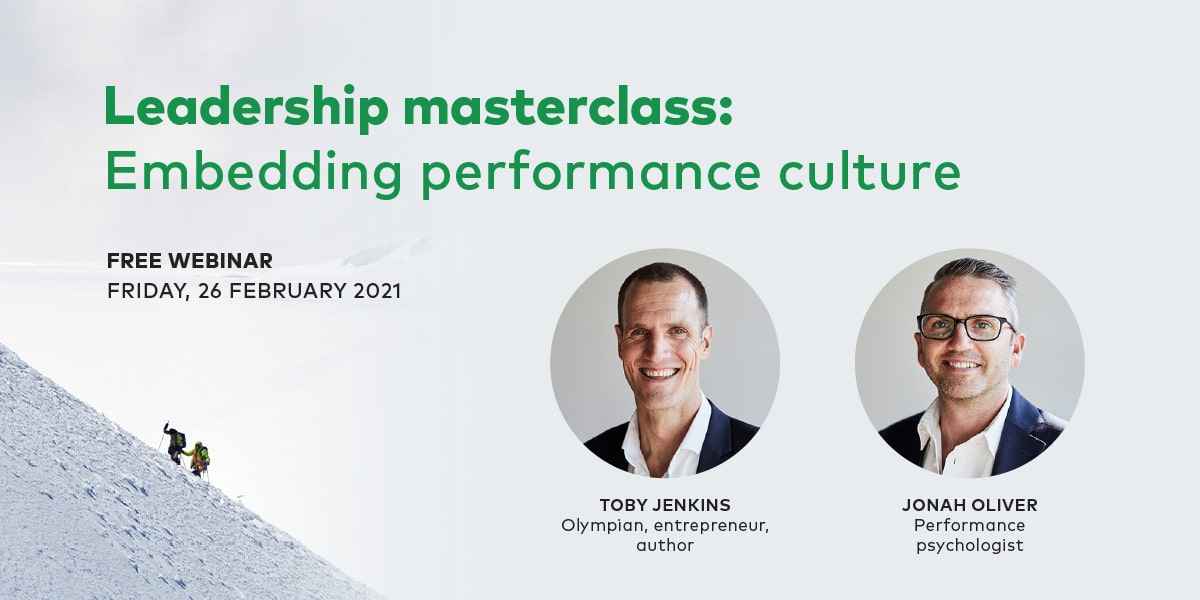 Leadership masterclass: Embedding high performance culture
26 Feb 2021 / Jonah Oliver & Toby Jenkins
Being able to operate at peak performance has become a business essential – and a skill every leader needs to embrace and embed across their teams.
We know that creating certainty, gaining trust, nurturing talent, minimising politics and fostering a culture of collaboration are all essential ingredients for growth and competitive advantage – but how exactly do we affect change when and where it's needed most?
In this follow-up to their popular webinar, The new rules of high performance, Olympic athlete Toby Jenkins and performance coach Jonah Oliver present a masterclass packed with hands-on activities and tools designed to help you drive change throughout 2021.
This one-off event is your opportunity to delve deeper into the mechanics of performance psychology and discover new ways to build capacity across your business and connect with your team by understanding what matters to them.
Join us for this free workshop on 26 February 2021 and:
Discover a new framework for creating thriving teams and organisations
Gain an understanding of exactly how this can be applied and measured in your teams
Learn how to foster the four key high performance conditions as a leader.
Attendees will also receive a complimentary workbook, which they can take away and work through with their teams.