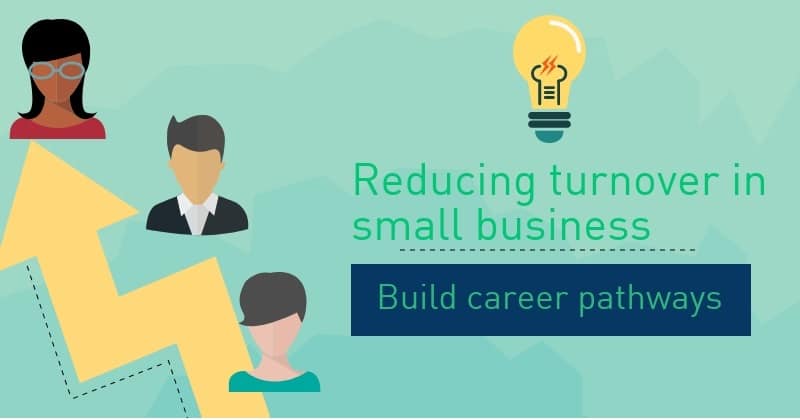 Reducing turnover in small business
Staff turnover can be a financially and logistically difficult exercise for a small business to deal with. With a small workforce, the loss of an experienced employee means pulling staff away from the operations of the business to recruit and train new staff. This can have significant impacts on the day-to-day operations of the business.
Small businesses, such as cafes, trades, retail and franchised outlets are high stress and fast-paced. It is understandable then, that some employees can burn out and start looking for an alternative. Staff leaving and entering a business is a natural part of the cycle, but if the workplace conditions accelerate or exacerbate this cycle, it can become a big problem. There are several ways to control staff turnover in a small business.
How do your managers see your employees?
Managers are often working in the business, as well as steering the ship from an administrative level. In many small businesses, they can also be the owner. It is important that owners and managers are able to guide success towards the business goals, rather than just for the sake of their own personal stake in the business. When the company does well, all staff should feel the positive effects of success rather than just being treated as cogs in the machine.
Staff recognise these attitudes, building trust and loyalty in decisions made by the business. Building this morale can be a strong influence on retention.
Consider flexible work arrangements
Small businesses don't have the same luxuries as large corporations in creating totally flexible work arrangements. With a small team, they often rely on having "right team, right time" to allow the business to function properly. However, where they may be tasks or roles that could have flexibility for staff with special circumstances, it may make it easier for a trained employee to stay within the business, rather than looking elsewhere to achieve the work-life balance.
Specialised scheduling and HR software can help identify where changes can be made, and allow scheduling assistance, manage leave applications and allow managers to monitor roster changes from mobile and web.
Build career pathways
Career pathways in small business can be limited – especially where the owner of the business is managing the company as well. But that doesn't meant here needs to be a ceiling on providing development opportunities for employees. Providing ongoing additional training and upskilling, as well as distributing responsibilities for more complex tasks allows the employee to see the very real impact they have on the business success.
Developing skills, through internal and external programs, can help the business expand and make it easier to promote current staff when it does. Work with individual employees to work towards mutually beneficial career development goals.
Salaries, bonuses and benefits
One of the more obvious ways to reduce staff turnover is to provide attractive remuneration packages. However, money should never been seen as a way to buy loyalty. Benefits, such as flexible work arrangements or higher superannuation, recognition for individual achievements or even just a regular morning tea can build the team culture and morale and make the business a better place to work.
This sort of company culture brings untold benefits in loyalty, trust, desire to succeed and communication within the business. A little money spent in the short-term can pay big dividends long-term in retaining your best workers.
Recognise hard work
It doesn't have to take monetary rewards to acknowledge excellent performance. Good managers will always be on the lookout for employees going over and above for the business. Simply recognising this through verbal feedback at the time can be a big motivator for the individual and their teammates. Managers can also share the results of how these small achievements benefit the business more broadly. This can be an extraordinary motivator to stay in the business and lets staff see the real effect their efforts have.