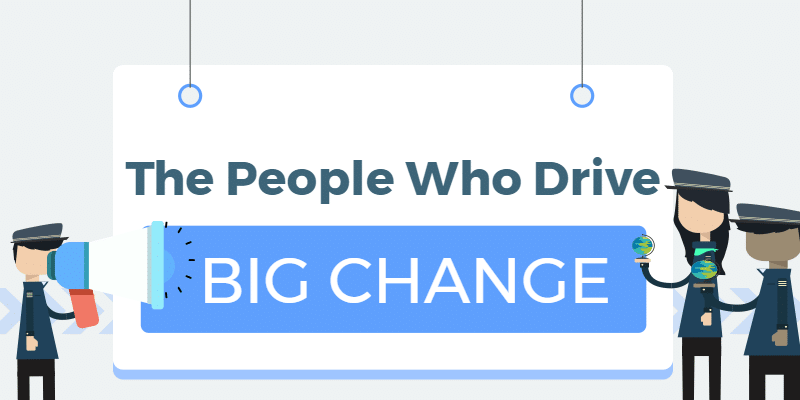 The People Who Drive Successful Big Change
Change can be daunting – especially in the workplace – but it is important to be able to do it well. However, according to McKinsey Global, we've got work to do on our ability to manage change. Their survey found that many corporations have not improved their organisational transformation skills in the last decade. This trend was especially prominent in large companies.
Michael Gale, partner at PulsePoint group, talked about the perils of digital transformation.
"Virtually every Forbes Global 2000 company is on some sort of digital transformation journey. Some are getting it right and others struggle. Basically, one in eight got it right and then there were ranges of failure to really whereby more than 50% just didn't go right at all," he said.
McKinsey Global's survey asked employees a range of questions about their organisational transformation. It seems that there are four key factors that play into the success of change in businesses.
Front-line employees
According to survey respondents, 86% saw their CEOs as between somewhat and very engaged. Past research by McKinsey & Company agrees that a CEO's role in change underscores success. Their goals should revolve around making the transformation important to the rest of the company. They should embody the behaviour they are looking for, and build a team that supports their ideas.
Overall, CEO engagement in transformational change does not appear to be the issue. 82% of respondents somewhat or strongly agreed that their CEO was a visible advocate of transformation.
According to results, the real difference between a successful and failed transformation, is front line employees. Front-line employees appear least involved in organizational transformations, at 46%. However in successful companies, this percentage of visibly engaged front-line employees jumps to 73%.
What's more, when viewing transformation, frontline employees and line managers are least likely to view it as successful. In comparison to 34% of CEOs, only 6% of frontline employees report successful transformations.
So, while having active CEOs is crucial to the success of a transformation, ensuring front-line employees are engaged could make all the difference.
Good communication
According to Ron Ashenkas of the Harvard Business review, organisations are often inconsistent with their direction of change. In trying new initiatives, and moving between ideas, it can be easy to lose the confidence of employees. It's exciting trying the latest way to revolutionize a business, but with each new turn you can lose employee respect.
This idea was confirmed by the survey, which found communication-related actions were most effective in engaging with front-line employees. 42% of front-line employee respondents thought clear communication on transformation objectives was the best way to engage them. Furthermore, all respondents and front-line employee respondents both saw CEO's visible engagement as important to engage front-line employees.
It appears at the most successful companies, not only is communication clear and available, but every member of the team is engaged in the goal.
Valuing people and their ideas
The front line isn't the only part of an organisation that can contribute to transformation. Like a well-oiled machine, when everyone does their jobs, the success rate rises.
Looking to the future, every member can play a part. It's 6.3% more likely to have a successful change when senior leaders share information about the movement for change with employees. According to respondents, change agents are used in organizations less than half the time. However, when they are implemented to help move the process along, they are twice as likely to be successful in making change.
It's important to look at how each employee can contribute ideas and a vision to your organization as it changes. But if someone isn't dedicated to the changes, these people need to be replaced. Just 6% of organization transformations succeed while working with someone who doesn't share the vision. This percentage increases to 29% when these people are replaced.
Looking to the future
Finally, the survey found a few ways that companies can enable the successful change.
Firstly, as outlined by Ron Akenshas, to make change, you have to explain why it's important. But this is not achieved not by sitting down an employee and talking to them. Progress is a hard and slow path, but happy employees are 12% more productive. If you can make an employee see the worth of the change, they will find it easier to see past their current inconveniences. Celebrate milestones and reward progress, showing that you are not just standing still.
Only 56% of survey respondents saw human-resource leaders as visibly engaged. A Harvard Nash HR Survey found two thirds of HR leaders feel undervalued by their CEO. HR mobile apps are now responsible for a number of processes that used to be done by these leaders.
This may explain why respondents felt HR leaders have a less important role in transformation. However, strategically using the analytic expertise of HR can make a difference to your success. Use HR to plan and occasionally reallocate people to where they would be better suited – when appropriate. HR know people, so use that skill to plan and organise the people in your business (recruiting, training, and occasionally dismissing), to achieve your change.
Finally, find new ways to engage your workplace. Creativity is not the sole domain of artists. Digital transformation, social media, and updated technology can all help in engaging a stagnated workplace. It is abundantly clear that reaching the front line can be a major challenge, especially at large companies. Tools like mobile apps and cloud software can be used to augment rather than replace traditional methods, and give employees the opportunity to engage outside the regimented structure.