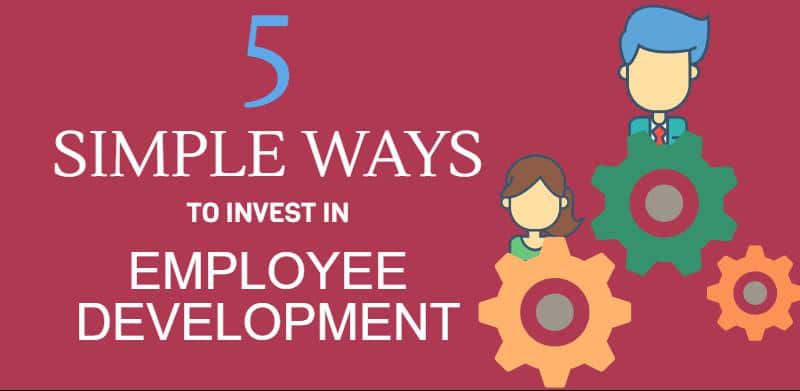 5 Simple Ways To Invest In Employee Development
Almost every leader can agree that taking the time to invest in your employees is an essential factor to creating and sustaining a successful business. However, many of the leaders out there can make the mistake of assuming an individual should provide their own pathway to professional and personal development. After all, it is your job to develop the business, and the self-enrichment process should be their responsibility, right? Wrong.
Realistically, if you are not investing in your employees, you simply are not investing in the future and prosperity of your business. The importance of investing in your people is to create a more engaged workforce and it is also an extremely effective way of reducing staff turnover for the company.
The focal point of this post is to assist you in finding multiple ideas to invest in your employees and create an atmosphere that ensure your team will never want to leave. It is important to note that investing in your employees can vary from financial incentives all the way to personal development training. In return, by showing you care about your team, they will reciprocate the favour and look after your business.
So keeping that in mind, let's get started!
1. Invest In Your Employees Personal And Professional Development
How often do you see a staff member excelling at their work but who is also struggling with their personal life? I'm guessing not very often. The reverse is usually true with a positive relationship emerging between professional and personal development in an employee. It is a common fear amongst business owners that if they invest too much towards developing their team members, those people will become increasingly valuable and perhaps jump ship. Rather ironically, this fear of loss does more harm than good and more or less leads to the outcome that you were trying to avoid in the first place.
In reality, many employees are feeling disconnected and disengaged within their workplace. A large contributing factor to this is mainly due to a lack of personal development and minimal challenges for the team. Your valued employees may look for job opportunities elsewhere if they feel aren't working towards goals or bigger challenges.
So, what can you do to ensure this doesn't happen? An idea that has assisted many business leaders in the past is what is called an Individual Developmental Plan (IDP). An IDP is a marvelous tool to assist your employees in setting and reach both their long-term and short-term goals. The plan allows an individual to ask themselves, "What am I doing now, where do I need to be, and how am I going to get there?"
To ensure your IDP is most effective, it is important that managers and team leaders are organizing a monthly check-up to track progress. If you are monitoring their goals, they are more likely to reach them. Schedule a monthly one-on-one meeting to discuss any issues and make suggestions to assist them in achieving their goals.
A basic IDP includes the individual to respond to the following questions:
What goals do you wish to achieve at work this year?
How will you/the organization benefit from these goals?
What skills, knowledge, and abilities will you learn?
What resources will you need to achieve these goals?
Another simple yet effective strategy is to provide financial support for personal employee growth. Offer a set amount each year to go towards funding things like conferences, courses and books in relation to personal and professional growth. Helping your employees from the get go will certainly benefit your company down the track.
2. Host Regular Team Building Sessions
While we all know that friendships within the workplace cannot be forced, there are strategies that can help foster healthy work relationships. Get your team to all write down a few things they like to do for fun and work towards completing those activities. It could be as simple as a weekend BBQ in the park or even a paintball excursion. Lots of businesses also enjoy playing sports, as it requires the team to work together but in a fun environment. You should also consider having one or two days a year off-site. A day away from the office as a team focusing on team building and development can work towards achieving a high level of camaraderie and respect. They are also a heap of fun and can give the employees something to look forward to during the working year.
3. Provide Incentives For Extra Work
Regardless of the size of your company, goals must always be reached and jobs must always be done efficiently. You may want to provide an incentive to particular employees so they can take ownership of a specific task. You would assume that since it has a monetary incentive, the job should be completed faster and perhaps better. So, one strategy you could use is to offer a bonus or commission based on how well that goal was achieved. By offering an incentive outside of their normal salary or pay cap, it allows them to have a sense of ownership. This can be a very beneficial way to help them grow personally and professionally.
4. Recognise Your Employees Hard Work
An easy way to invest in your employees is to recognise their efforts. By creating weekly recognition events or even monthly awards for achievement, it keeps employees motivated to strive for acknowledgement. While praise certainly is not the only thing that ensures a team member remains motivated, it certainly does go a long way in terms of personal pride in their work. It can be as simple as a 15-minute weekly meeting that recognizes the excellent work done by a team member of the company. The monthly awards can single out the top performers and can also introduce some healthy rivalry within the workplace.
5. Offer Benefits That Specifically Relate To An Employee
There is no surefire perk that will work for every employee in the organization. However, tailoring a work incentive to suit the specific desires of that team member will be the utmost effective strategy. For example, if you have lots of employees with young children, perhaps a subsidy for childcare funding would be extremely beneficial. Another idea may be for the busy employees that work around the clock, organise a car cleaning service or occasional free meals at lunch for the time-poor staff.
To invest in your employees is to invest in your company. It is not about spending copious amounts of money on lavish strategies, it is about thinking and knowing what will work best for your business and your team members.