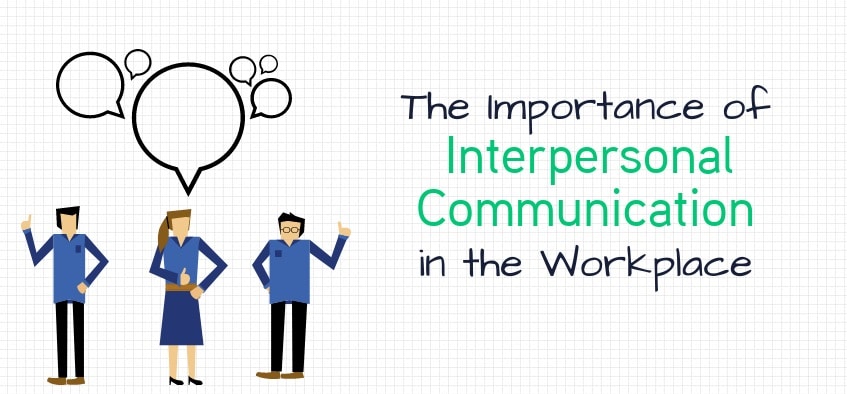 The Importance of Interpersonal Communication in the Workplace
Effective interpersonal communication in the workplace is integral to a well-functioning, high-performing team. Interpersonal skills are the ability to communicate important information and manage social interactions with colleagues, both up and down the business food-chain.
Research published in the Business Communication Quarterly journal explains that hard skills are the technical expertise needed for a job, while soft skills are interpersonal qualities, such as people skills. These can often be harder to identify and measure, but can be just as important for career progression, personal and team morale, and business success.
Key interpersonal communication skills in the workplace
The research above outlines 10 key interpersonal communication skills identified as crucial by business executives. These include:
Communication – oral, speaking capability, written, presenting, listening
Courtesy – manners, etiquette, business etiquette, gracious, says please and thank you, respectful
Flexibility – adaptability, willing to change, lifelong learner, accepts new things, adjusts, teachable
Integrity – honest, ethical, high morals, has personal values
Interpersonal Skills – nice, personable, sense of humour, friendly, empathetic, positive
Attitude – optimistic, enthusiastic, encouraging, happy, confident
Professionalism – businesslike, poised
Responsibility – accountable, reliable, gets the job done, resourceful, self-disciplined, common sense
Teamwork – gets along with others, agreeable, supportive, helpful, collaborative
Work Ethic – hard working, loyal, initiative, self-motivated, on time
Improving interpersonal communication in the workplace
Poor communication between employers and employees, and within teams, can harm the business in a variety of ways. If a manager is unable to clearly communicate tasks, workers can quickly become frustrated and disconnected with the business goals. Morale can be affected, as can the sense of 'team' that guides projects to success. Businesses relying on sales to external customers can see clients neglected or forgotten, deals can fall through, and the business' bottom line suffers.
For managers, maintaining genuinely opens lines of communication and feedback is important. A successful open door policy indicates to employees you are willing to listen to concerns and see staff as people, rather than just 'workers'. The American Psychological Association also found employees who see the business as being open with them about business activities are three times as likely to feel valued and more than two times more likely to be motivated to perform their best. These figures can have a substantial impact on the performance of the business as a whole.
Managers who maintain professionalism and a positive attitude are more likely to be approachable and issues will get sorted quicker. When employees can speak openly with decision-makers, it can stop workplace gossip and rumours from spreading.
For employees, actively working on interpersonal communication skills can be a big boost to career progression and current job satisfaction. The increasing prevalence of communication technologies means employees aren't always conversing face-to-face. This can create communication barriers and affect the opportunities for positive interpersonal interactions. Being aware of how you communicate in writing is important to developing written communication skills and professionalism, as is understanding different communication styles. Listening to others while suspending judgement and being accountable for your actions boosts how others perceive your integrity and assess your personal values. Further, actively listening to constructive feedback builds confidence and job performance.
Developing the self-awareness of your own interpersonal skills in these areas (and appreciating the ways others communicate) can position you to be considered for promotions and opportunities as they arise. It also boosts current happiness and job satisfaction.
Improved interpersonal communication in the workplace is a strong indicator of career and business success. Both managers and employees have a responsibility (and strong incentives) to maintain a focus on building soft skills, as well as hard skills. While soft skills may not be as obvious when they are lacking, they can be equally as damaging to a business where they are not present.