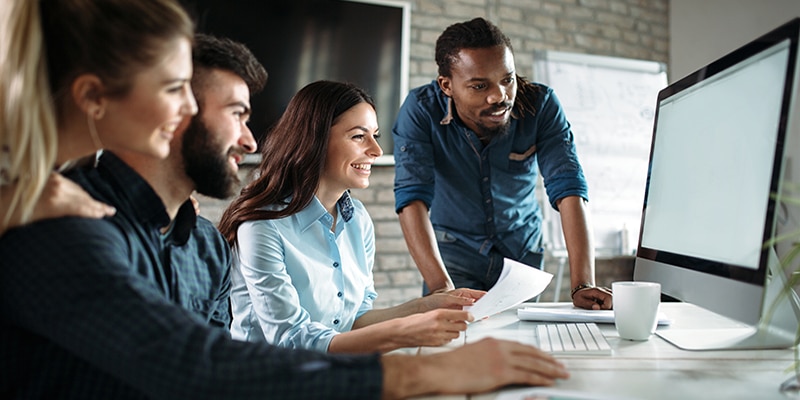 5 ways to help your employees adopt new HR technology
Deploying a new HR technology software system brings with it a whole host of challenges from migrating data to managing any down time during the transition and in the case of custom solutions, rectifying teething problems. But perhaps the most difficult challenge to overcome is ensuring the software system is adopted quickly and enthusiastically by employees.  After all, there's no point in investing in a fantastic new software system if no one will use it!
Not all employees will feel the same way about the change in technology. Some will feel relief that their frustrations with the old system will be eased. Some will feel un-certain and have concerns about how it will impact their jobs – particularly if the technology is designed to digitise and automate their work. Some will be excited about the future possibilities that the system will bring. And some will be sceptical that the new software system will bring any benefits at all. These differing mindsets have a tremendous impact on how quickly and readily they will accept the new software.
Understanding these mindsets and putting in place mechanisms to support and involve employees throughout the decision-making process and implementation phase is the key to ensuring as many employees as possible are happily on-board with the new system. To that end, we've put together a list of ways to positively influence the adoption of new technology in your organisation.
Put communications at the heart of implementation
Nothing fuels fear and uncertainty more than silence from management, so sit down and plan out key milestones for the project and consider how you can communicate how the project is progressing and when. Anticipating concerns ahead of time will help you to develop the right messages and keep people positive about the change. And remember: not all employees will respond to every type of communication so include a range of mediums such as email, intranet, kitchen bulletin boards and town-hall style meetings.
Involve employees in the software selection process
Tech Republic suggest that technology early adopters and innovators will have the most objections, so they are important stakeholders to include the decision-making process. Get them on board and they'll be your strongest advocates within the organisation.
You might consider including them in an employee-led working party to allow them to have input into the software selection process.  If possible, enable early adopters to play on a test site and identify potential problems and limitations. It's also crucial to acknowledge their ideas and give reasons if they can't be implemented.
Create a training plan that recognises different learning styles
An enormous barrier to adoption is not knowing how to use the software system properly. You may think you have this covered, but remember: everyone learns differently, so that one-off training session may not have worked quite as well as you'd hoped. Plan to use several learning methods such as one-to-one training, group training, webinars, videos and manuals. There will be people who learn best 'on the job' so ensure you have people they can turn to when they need help.
It's also wise to arrange demonstrations and training just prior to the 'go live' date – employees will inevitably want to get stuck in and play with the new system as so as it is available.
Provide ongoing support for employees
Implementing a new software system is not a 'set and forget' project. New employees need training, and existing employees will need to learn to use new features as the system is updated.
In addition to an ongoing training plan, you can support employees by involving them in creating cheat-sheets for new staff based on their experience and establishing an internal user forum where they can share tips and trouble-shoot issues together.
If you set up a working group in the selection phase, suggest they still meet monthly after implementation so that you can get feedback on issues and ideas.
Celebrate the wins – no matter how small
Maintaining a positive vibe throughout the selection, implementation and day-to-day use phases of a new software programme can be difficult. Publicly celebrate wins at each stage – whether it's selecting a new programme that is going to make your employee's jobs easier, 'Go Live' and the first sales/hires/transactions that are successfully processed using the new system. This helps to reinforce the benefits of the new system and reassure employees that the transition was worthwhile.
As the old saying goes "You can't please everyone". You will always have employees who simply refuse to accept the new system, and those who will voice their objections regularly despite knowing that the new software system is here to stay. All you can do is acknowledge their objections, attempt if you can to understand where these concerns come from – perhaps a lack of confidence with technology or an inherent resistance to change of any sort – and help them in any little way you can.
The good news is that with plenty of thorough planning and empathy for your employees, you can ensure a speedy transition and adoption for your shiny new software system.
You may also find the following posts helpful: