What Do the Experts Say About How Artificial Intelligence Will Change Business?
Artificial intelligence's impact on business isn't news. However, exactly how it will effect certain industries and workplaces is yet to be determined. So, what do the experts say about how artificial intelligence will change business? How can executives harness artificial intelligence to create value in their business? It's a balancing act of skills, according to AI experts.
For a recent article, McKinsey&Company spoke to Artificial Intelligence experts at the AI Frontiers conference in California. They asked the experts to give advice to assist business executives to best implement AI.
This is what they said.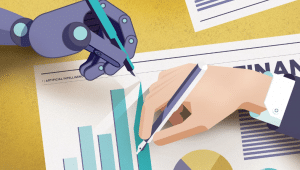 Li Deng – Chief AI officer, Citadel
According to Deng, it is important to move forward into an AI driven world. However, you have to consider how AI will affect your business specifically. Certain tools may not work for your business. Artificial intelligence will change business for the better if we are smart about how we implement it.
Mohak Shah – Lead Expert, data science, Bosch Research and Technology Center, North America
Shah sees the biggest change with the introduction of AI systems coming from people, not machines. You will need to look for people who can find technological solutions to business issues. People who can make a connection between where technology and business combine to create value will be irreplaceable in your business.
Adam Coates – Director, Baidu Research Silicon Valley AI Lab
In Coates' opinion, AI advancements are affected by three critical components. They are data, computing power, and talent. He discusses enterprise platforms, which is software created to cater to a whole organisation, rather than individuals.
Furthermore, he sees a gap in the talent market, where more engineers and experts need to be available to work with machine-learning algorithms.  In the future, Coates believes enterprise platforms will become so good there will be little need for these individual programs. This will mean less need for teams of engineers to solve specific problems.
AI technologies such as call centres may struggle without engineering teams, however many businesses will require very little additional help due to the advancement of enterprise platforms.
Rajat Monga – Engineering Director, Tensor Flow, Google
According to Monga, artificial intelligence will change business most positively if it goes straight to the top. It is a very useful tool, which can change the direction of a business. As such, it should be one of the key weapons in every CEO or executive's arsenal. Like the internet, while AI is just starting, every business in the next few decades will be changed by its progress.
Coates, the director of the Baidu research Silicon Valley AI Lab, makes the point that many individual tasks will soon be taken over by enterprise platforms. This is already starting to occur, with end-to-end HR software such as Roubler removing the need for individual programs. Prior to this technology, there would be different programs dedicated to payroll, hiring, time and attendance etc.
With an integrated system that spans across all aspects of hiring and maintaining employees, the need for the experts Coates refers to is lessened. By ensuring that each step of an employee's work life is integrated into one system, there is less of an administrative burden. For example, when an employee is put on a time sheet, the information will then be transferred to payroll through the same system.
Hence, with AI technologies such as this, we are removing human error, and freeing up valuable HR time to focus on the human aspects of their job. Payroll and timesheets amount to little more than data processing for a computer.
Artificial intelligence will change business. If implemented correctly, it will move it away from menial, repetitive tasks into an integrated system. This will lessen unnecessary strain and workload.
Image source: Raconteur