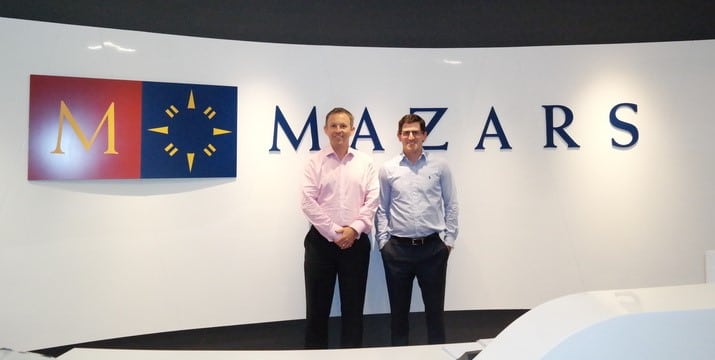 Mazars and Roubler are delighted to announce a global strategic partnership
Roubler, a HR technology platform automates and manages everything from posting and tracking online job applications and ranking candidates to rostering, monitoring time and attendance and payroll. Mazars is a global professional services firm with 18,000 staff operating in 79 countries.
The deal has been months in the making working closely with Mazars Singapore Partner, Chris Fuggle. "We are excited to be partnering with Roubler" said Chris Fuggle, Partner at Mazars.
Roubler is already working closely with a number of Mazars Australia clients. "Retail, Hospitality, Food Processing, Construction and other shift based workforces, all waste significant amounts of time recruiting, rostering, verifying overtime etc. The systems they use are very manual and absorb huge amounts of management time. Our strategic partnership with Roubler will not only enable us to rid these industries of this unproductive time but also allow us to provide insights and analytics to help them optimise their workforce performance and profits." said Mazars Sydney Partner, Matthew Ashley.
Roubler was the brain child of entrepreneur Andrew Northcott, founder of one of Australia's largest labour hire group's which had annualised revenue of AUD $100m business when sold on to an international conglomerate. Andrew's experience across a broad range of shift based workforces made him well aware of the inefficiencies in industries with high levels of casual staff, hourly rate contracts, complex shift patterns, multi outlet / multi-site rosters.
Andrew commented "We are working with Mazars as our foundation partner initially in Australia and Singapore. This partnership with Mazars and the joint commitment to create market leading solutions for their clients, even when it meant disrupting their own operating models. Mazars has been investing heavily in innovation and is building a fantastic team culture. We are like minded modern firms, with complimentary expertise. It's a great foundation for a strategic partnership."
Partner Program
The technology has gone live in Australia in the last couple of weeks with significant uptake. Inline with the Mazars / Roubler partnership announcement we have announced the Roubler Partners program which provides our partners with discounts to the roubler subscriptions. Each partner has access to their own branded HR dashboard detailing their clients workforce analytics, a direct link to their payroll and co branded custom reporting which allows partners to value add to their clients with real time reporting ie. labour cost V revenue and other key business metrics. We also have other benefits like discounted payroll for our partners internal employees and marketing support.