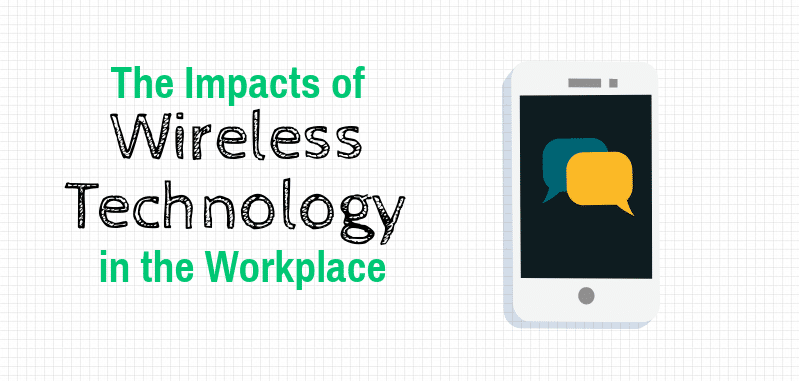 The Impacts of Wireless Technology in the Workplace
Business procedures have seen a mammoth amount of change over the past few years. Technological advancements have played the major role in this change, alongside shifting expectations from customers. Today, any company that means business is armed with a flurry of technologies that streamline their everyday procedures. Wireless technology has enabled businesses to achieve more, and has even generated new opportunities. Below, we examine some of the changes brought about by the increased implementation of wireless technology in the workplace, and examine just how they're affecting businesses.
Increased mobility
One of the most prolific changes wireless technology has brought to the workplace is the ability to go mobile. The combination of wireless devices, such a smartphone and tablets, with cloud-based programs and store has revolutionised the way we operate businesses. 'Work' is no longer limited to the confines of the office. Employees can be in different cities – even different countries – and still remain connected, up-to-date, and productive. An internet connected smartphone in the US can access a cloud-based database in Australia, allowing an out-of-town employee the ability to continue their role as normal. Increasingly, planes equipped with wi-fi enable employees to answer emails even when in international transit. The workplace is no longer fixed.
Heightened flexibility
Another key impact of wireless technology in the workplace is the increased flexibility. As the workforce becomes increasingly mobile – Statista estimates that by the end of the year, the number of people using mobile phones will hit 4.77 billion. As the workplace morphs from a defined space to anywhere with an internet connection, the rigid office schedule changes too. It's no longer necessary for employees to be in the office from 9 to 5 everyday in order to get work done. Many offices allow employees to work from home, and even conduct meetings via Skype. Some companies have scrapped office spaces altogether as their teams work completely out of their homes. Productive and employee satisfaction can see a massive increase when the traffic-ridden daily commute, and unnecessary office politics are removed. Furthermore, company overheads are drastically reduced when one device can do the work of five, and employees aren't over-using facilities.
Better communication
Although the emphasis should still be on face-to-face communication, there's no doubt that mobile technology has brought increased communication to each and every workplace. Employees from varying departments who wouldn't normally chat can be added to virtual group project chats. Employees who are out of town can sit in on the weekly team meeting via Skype, and can send urgent messages via Teams.
Amplified ability to grow and expand business
For many companies, global growth is one of the ultimate business goals. However, expanding a business internationally is difficult and requires a mammoth amount of strategizing to get to a place of profitability. Wireless and mobile technology has really opened the pathway for many businesses to go global. Clients, employees and shareholders are easily accessible regardless of their location. Creating and maintaining contacts overseas is no longer a hurdle for business owners, and this presents unique opportunities to grow and expand.
Improved productivity
Wireless and mobile technologies have increased workforce productivity in many manners. Not only does the mobile abilities of new devices drive productivity as employees can work from home on their own schedule, but some technologies take it even further. Increasingly, HR software is being created that can streamline all administrative tasks. Cloud-based workforce management system Roubler, for example, consolidates recruitment, onboarding, rostering, time and attendance, and payroll into one easy-to-use interface. This saves businesses hours of manual data entry and tedious admin work, so that staff can focus on the company goals. Technologies like Roubler exemplify the ability of wireless technology in the workplace to alleviate administrative burden and increase productivity and profitability.
Wireless and mobile technologies have had many effects on the functioning of workplaces. With the correct implementation, wireless technology in the workplace leads to heightened mobility and flexibility, better communication between teams, improved productivity, and more ability to grow businesses.