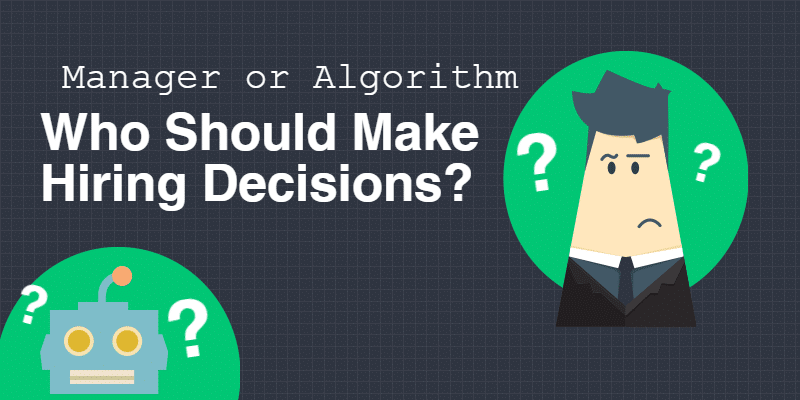 Manager or Algorithm: Who Should Make Hiring Decisions?
Recruiting the right employees is one of the most important decisions a business can make, whether it's frontline staff or top-level managers. Businesses invest significant resources into screening resumes, shortlisting candidates, conducting interviews, and on-the-job training. It is critically important therefore, that the recruitment staff appointing new hires are selecting the best candidates for the job.
But should HR managers be given discretion when hiring new employees? Or should it be left to objective measures, such as automated suitability tests specific to the business? The argument is often that managers gain 'private knowledge' from interviews that is not necessarily apparent in test scores. Or, that managers are a better judge of a 'good fit' for the job.
However, researchers from Harvard Business School found that giving preference to test scores significantly increases the quality of successful applicants. Furthermore, it leads to employees staying in their roles about 15 per cent longer than applicants without testing. In contrast, managers who are given more discretion to choose applicants tend to hire lower quality workers. "Even when faced with applicant pools that are identical in terms of test scores, managers that make more exceptions [to using test scores as the primary indicator] systematically hire workers who are more likely to quit or be fired", the research notes.
Can job tests compensate for human biases?
The study was conducted by researchers from Harvard, Yale, and Cambridge using data collected from a job testing provider. They examined test results and hiring decisions from 15 clients. The assessment measured "technical skills, personality, cognitive skills, fit for the job, and various job scenarios".
In the 15 workplaces examined, hiring managers previously had full hiring discretion based on resumes and interviews with candidates. Information on 94,000 hires from 690,000 applicants was collected.
Based on computer testing, potential employees were graded green, yellow, or red to indicate performance, and suitability for the position. This information was then provided to the managers. They were encouraged, but not obliged, to use the data in their decisions.
The results showed a correlation between managers who hired with exceptions and worse outcomes for the business. That is, managers who hired those who ranked 'yellow' or 'red' in computer testing saw poor outcomes. In particular, making exceptions to the test results saw employee tenure 15 per cent shorter than when 'green' candidates were employed.
Should job testing replace manager discretion?
Importantly, this research highlights that neither job testing or managerial discretion should be used in isolation for hiring decisions. Instead the research suggests that the best solution is a hybrid approach of the two. This would see applicants pre-assessed and ranked by computer-based assessment performance, allowing employers to shortlist only the best interview candidates.
Allowing a machine learning algorithm to continuously adapt and improve a business' hiring conditions ensures the best possible recruitment outcome. It allows hiring managers to focus on only the 'green-rated' applicants.
While pre-interview testing can provide quantitative, objective data about a candidate, interviews provide hiring managers with observed, qualitative information. A hybrid model would see managers choose the 'best of the best', based on the outcomes of testing, and remove risks of biases or poor judgement on the part of the interviewer. Pre-screening through a job assessment process can also be a predictor of behavioural traits and workplace performance.
Doing so will produce an improved pool of employees staying in their position for longer, and a streamlined path to simpler performance management. It also reduces the significant resources used to onboard new employees, which can take several weeks even for entry-level positions.
Pre-employment assessment saves on costs
The pitfalls of poor hiring decisions include hard and soft costs. Research published in the Journal for Quality and Participation found that the hard costs of a bad recruitment decision range between 50-200 per cent of the first-year salary, depending on the position level. Soft costs can be more even more damaging. They include loss of confidence in management decisions, lowered morale, and a loss in competitive advantage within the industry.
Researcher Patty Grigoryev found that implementing pre-screening through competency testing can aid recruiters during the interview process. It simplifies the onboarding process for new employees, and serves as a valuable tool in succession planning for the business into the future.
The implementation of assessing applicants prior to shortlisting can provide substantial benefits to a company, and allow it to focus maximum energy on their core business priorities.
Are you looking to make better hiring decisions? Roubler automatically assesses, shortlists and ranks applicants that are most suited to your particular HR and workforce needs. As part of the end-to-end software, Roubler's machine learning algorithm continues to uniquely gather data throughout the employment life cycle as to what employee attributes do and don't work for your business. Roubler will then rank all applications as a percentage suitability. Never again waste time sifting through hundreds of irrelevant candidates. Invest your time in the top 10% of applications. Find out more.