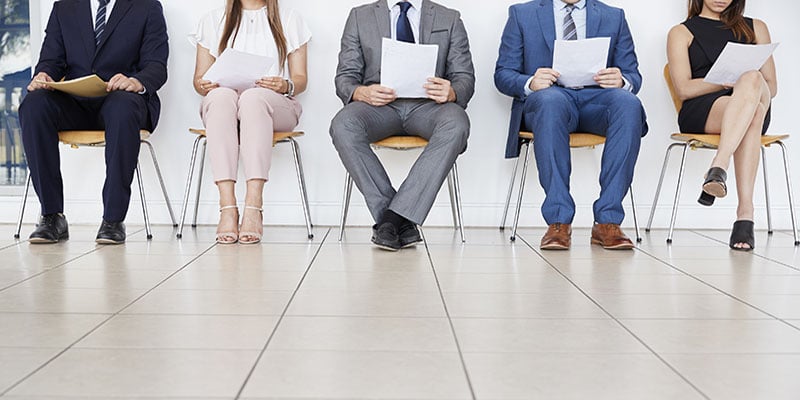 How to Manage High Volume Recruitment
Early in 2017, Amazon made headlines for hiring a huge 50,000 employees. Whilst most businesses will never have to recruit that many staff, high volume recruitment is still very common. Most roles receive around 59 applications, while high-volume, or popular, roles can receive 250 to 300 applications. Narrowing your search down from 250 resumes can be difficult and very time-consuming however, it has to be done. Below, we compile a guide on how to manage high volume recruiting in your business.  
Use your time intelligently
Several studies have shown that a person's productivity is capped at 55 hours per week. Over this amount, and you're just wasting time. Someone working 72 hours a week is really only getting the same amount of work done as someone working 55 hours. 
High volume recruitment isn't an overnight job, and this should be acknowledged up front. Technology will certainly assist – and we will discuss this soon – but it will still take time to recruits large numbers of new staff. Cramming this work into 12 hour days is not the answer! 
Recruitment technology is essential
HR technology has evolved rapidly over the past few years. Recent technologies can automate just about every aspect of manual HR procedures – including recruitment. Implementing HR software that will automate the recruitment process is essential for high volume roles. Here's what to look for when choosing recruitment software: 
Sourcing

The recruitment software that you implement should be able to source potential candidates for you. In other words, the software should be able to post to job boards and job sites on your behalf. Furthermore, some new AI enabled technologies can take the job description and apply it to external resume databases to seek additional candidates. 

Re-scanning previous candidates

Often when an applicant applies for a role but is unsuccessful, they're told that their resume will be 'kept on file' for future roles. Despite employers best efforts to keep this promise, revisiting these previous resumes for new roles is a task that is easy to forget! The average high-volume role sees 65% of resumes ignored, meaning that the HR department could be sitting on a treasure chest of fantastic applicants. Talent re-scanning automatically assesses the resumes of previously unsuccessful candidates who've applied for roles within your organisation. Think of the time you could save if a handful of the previous applicants already within your reach are a perfect fit for your new role!

Resume assessments

Recruiters frequently report that the most difficult element of high-volume hiring is assessing candidates when the pool is so large. Reading hundreds of resumes takes hundreds of hours. Considering the high number of unqualified applicants who will apply for each role (studies estimate it's around 75%), reading each application is completely inefficient. Hence, choosing a recruitment software that pre-screens applicants to create a shortlist is a sure-fire way to increase your recruitment efficiency.  
Additionally, studies by the Harvard Business School have found that recruiting using the assistance of technology results in better hires who will stay with the company longer.
Understand the new recruitment landscape
The necessity of recruitment technology raises another challenge for recruiters: understanding the evolving recruitment landscape. Here are a few changes to the recruitment landscape to keep in mind when trying to fill new roles: 
Mobile is key

Job-seekers are more likely to be using their mobile to search for new roles. Hence, your application process should reflect this and be mobile-responsive. Choosing to advertise your position on platforms that support mobile phone applications is an easy way to address this. 

Choose the best platform for your business

There are a plethora of job boards and sites these days, so select the best ones for your business. LinkedIn could be the best spot for hiring new employees in a corporate landscape, Seek may be better for retail recruiters, and a more niche trade-focused site may be necessary for more specialised roles. Social media is has even proved itself as a successful method of recruitment for many roles. 

'Quick Apply' increases unqualified candidates

One of the most common mistakes made when hiring new employees is not checking out their qualifications. Due to the ease of clicking 'Quick Apply' on sites like Seek, many applicants may be totally under-qualified for your role. Use recruitment technology to ask qualification questions up-front to weed out unsuitable applicants quickly. 
Brand well, hire well
You need to sell your brand to high-quality talent just as much as they need to sell their resume to you. This is especially true if you're a company that consistently requires a high volume of staff. If you're always on the hunt for staff, it saves time and money to have 'passive' job hunters approach you because they're attracted to your brand. According to Ideal, just over a quarter of businesses have been found to have a strong employer branding strategy and those who have have seen greater success than their peers. Ideal cited the example of St Dominic's Hospital who linked their Facebook and recruitment tool together which combined images of the work space, as well as promoting employee benefits. This resulted in  4 quick hires at under $500 per hire – saving them $40,000 in recruitment fees. These new hires had come to the Facebook site out of interest and the hospital's employer branding successfully converted them to employees. 
High volume recruitment requires organisation, the right technology, and a strong employer branding strategy in order to win the best talent for your business. To find out more about recruitment technology, click here.