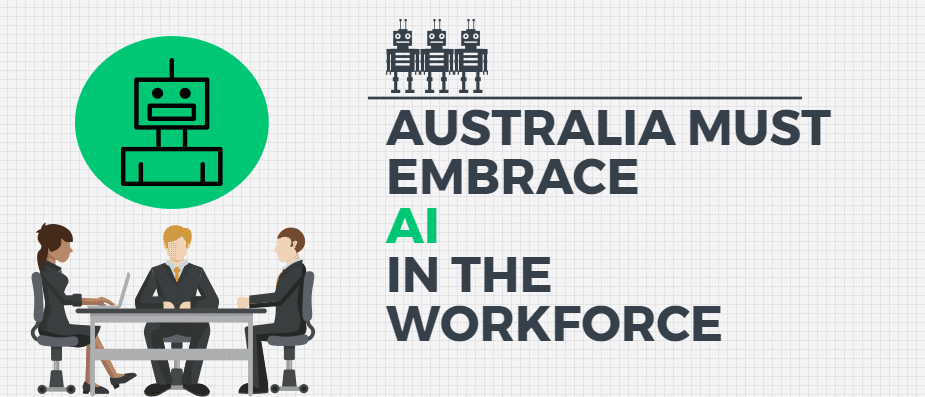 Report Finds that Australians Must Embrace AI in the Workforce
A new report by economics and strategy consulting firm AlphaBeta says that Australia must embrace AI in the workforce sooner rather than later to reap the rewards. The report notes that as a country, Australia should double its pace of AI and automation uptake. This would see the country set up to reap a $2.2 trillion opportunity by 2030. Furthermore, it would support 3 million plus employees whose jobs are at risk.
We must embrace AI in the workforce as ALL jobs will be affected
Automation and AI are not news in many workforces. Driverless trucks, docks run by robots, and fields ploughed by machines have become the new norm. However, white-collar jobs are next on the list for AI intervention.
"The reality is automation changes every job," economist and director of AlphaBeta Andrew Charlton told ABC. "It's not so much about what jobs we will do, but how will we do our jobs, because automation isn't going to affect some workers, but … every worker."
The report found that about a third of tasks completed by accountants, insurance clerks, actuaries and even librarians are easily done by AI. HR tasks such as entering time and attendance data, processing payroll and onboarding employees can all be completed by end-to-end cloud software such as Roubler. The tasks that are most commonly automated are those that involve more danger, less enjoyment, and often are paid the least for.
If Australia is to properly embrace AI in the workforce, employees would see direct benefits. According to the report, giving such jobs to robots could see:
11% drop in workplace injuries
20% increase in wages for non-automatable tasks
A rise in job satisfaction for 62% of low-skilled labourers

AI will heighten the abilities of workforces
However, the report did not find that AI will lead to joblessness. The report notes how much media attention is incorrectly focused on jobs lost. The jobs of the majority of Australia's 12 million workers will more likely evolve rather than vanish. If Australian workers are trained correctly – and soon – benefits will flow. Mr Charlton emphasises that training and re-education are key to this transition.
Furthermore, AlphaBeta explains that time freed by AI will be restructured. Two-thirds of the time saved by automating tasks will be used elsewhere in the business, not lost. The report explains that over the next 15 years, the average Australian worker will spend 2 hours less weekly on mundane tasks. This will allow more time for complex activities that require higher thinking, decision-making and problem-solving. Businesses will benefit from this extra time spent performing higher-level tasks.
For example, a company may spend ten hours less a week inputting time and attendance data, and ten more hours achieving larger goals. A human resources employee may spend five hours less sifting through resumes, and five more hours implementing effective employee training programs. Teachers can spend far shorter time inputting exam scores and more time with students. Hence, to embrace AI in the workforce would mean higher-level work and less time wasted on mundane tasks.
Australia must embrace AI in the workforce soon
However, Australia is currently at risk of missing out on the opportunities AI holds. The report found that the country is not adopting automation at a high enough rate.
"Right now, Australia is lagging," Mr Charlton told ABC. "One in 10 Australian companies is embracing automation and this is roughly half the rate of some of our global peers."
Mr Charlton told the ABC that both businesses and government have essential roles to fulfill in the successful implementation of workplace AI.
"The role of companies is essential. Their workforces will change and they need to change in order for them to remain competitive and successful" he said, "But they also need to recognise the skills and experience of their existing workforce and build on those skills through better in-work training."
How can you embrace AI in the workforce today?
According to Mr Charlton, AI are "powerful tools that will change the way we work, take away some of the drudgery and give us the power to do new and exciting things in our work."
There are many simple ways in which your business can implement AI to assist your current workforce. End-to-end workforce management tool Roubler will eliminate hours of HR burden from your workload. It combines every aspect of HR into one seamless cloud-based system for simpler workforce management and better business performance. Never waste time sifting through resumes, entering time and attendance data, or managing complex payroll setups. Find out more here.