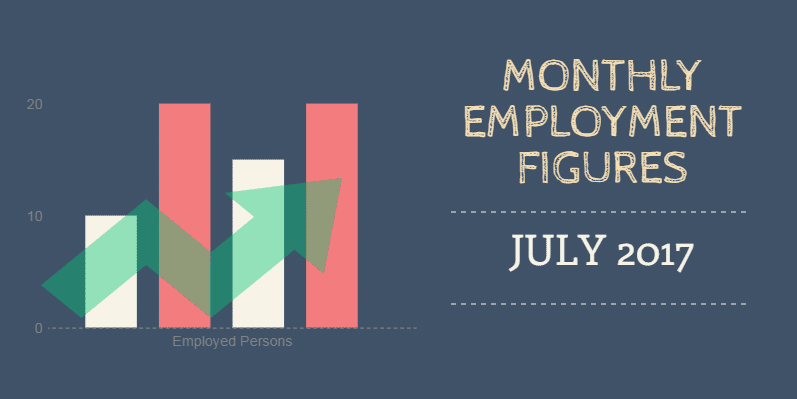 Australia's Job Growth Continues
Australia's job growth has continued throughout July. Over 27,000 jobs were added to the Australian economy over the last month, the latest ABS Labour Force statistics reports. This surpassed economists' estimates of an added 20,000 for the month. The figures put the total number of jobs added over the past year at 259,200.
The trend employment to population ratio – which measures the level of employment in over 15-year-olds – grew by 0.4 points to 61.4% over the same year. This is the highest the figure has been since April 2013.
Unemployment rate steady yet again
The unemployment rate saw a very minor drop to 5.6% after the ABS revised June's rate up to 5.7%. Economists dub 5% unemployment as "full employment", and Australia's labour force is getting close to such a figure.
National Australia Bank economist Tapas Strickland told the AFR that it is possible for us to hit the figure.
"It is likely that the unemployment rate will track lower given trend employment growth is well above the break-even level of 15,500 a month needed to keep the unemployment rate unchanged," he told the AFR.
The number of people either in a job or actively looking for one rose to 65.1%.

Trend estimates still point to full-time job growth
Although the seasonally adjusted estimates saw a 20,300 drop in full time employment, the trend estimates still point to growth in those employed full-time.
"Full-time employment has now increased by around 220,000 persons since September 2016, and makes up the majority of the 250,000 person increase in employment over the period," Bruce Hockman, Chief Economist for the ABS, said.
TD Securities chief Asia-Pacific Strategist Annette Beacher told the ABC that the full-time job growth is focused in a few particular industries.
"The acceleration in full-time jobs has been skewed towards professionals, construction and health, while part-time jobs tend to be skewed towards retail and health," she said to the ABC.
Australia's job growth – a healthy labour market
All states saw trend employment growth. New South Wales and Queensland saw large employment growth, up 10,600 and 8,300 jobs respectively. The ACT's figures remained steady and the Northern Territory went down 1,600 persons.
All states and territories, except the Northern Territory, have experienced increases in employment over the past year.
The ABS noted that the past year's trend employment growth of 2.2% (or 259,000 people) is above the mean growth of 1.9% experienced over the last two decades. This indicates a healthy labour market.
Underemployment still plaguing
However, Labor's employment spokesperson Ed Husic was less focused on Australia's job growth. He drew attention to the rate of underemployment, which suggests people want more work than they can currently get.
"People feel like they're not getting enough hours and their wages aren't moving either," he said to the AFR.
"We need to see the creation of more secure work, that people actually feel like they can hold onto their jobs or they're getting the amount of hours that they think is satisfactory. And there has got to be a game plan on wages."
If your workforce is growing, now is the perfect time to manage your time and attendance and payroll better! Roubler is Australia's only HR cloud software managing the full employment life-cycle from recruiting and assessing applicants, to managing time and attendance, payroll and business intelligence. Find out more here.