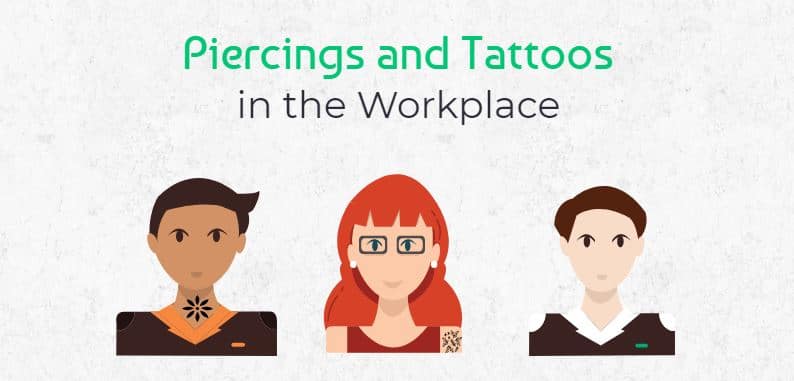 Managing Piercings and Tattoos in the Workplace
Piercings and tattoos are certainly more common than in past generations, but that doesn't mean they are no longer a topic of contention in the workplace. Many employers – particularly in businesses dealing with retail or corporate customers – set dress standards for employees. This can mean visible piercings or tattoos banned for existing employees and can also see job applicants rejected for positions. It's important for employers to be aware of their rights and responsibilities when enforcing these policies in the workplace.
What does Australian law say on piercings and tattoos in the workplace?
There are no laws preventing employers from taking action against employees with tattoos and piercings. The Fair Work Act 2009 does not protect employees from discrimination based on physical appearance. A case before the Fair Work Commission in 2014 saw an employee sacked from Dapto Leagues Club in NSW. The employee refused to remove a lip ring against workplace policy that no piercings could be visible for front-of-house staff. The employee had been working with the Leagues Club prior to the policy being put in place.
The Fair Work Act says employers cannot take adverse action against an employee or prospective employee based on these protected attributes, which are:
race,
colour,
sex,
sexual orientation,
age,
physical or mental disability,
marital status,
family or carer's responsibilities,
pregnancy,
religion,
political opinion,
national extraction or,
social origin.
The FWC found it did not have the power to overturn the sacking because physical appearance, including piercings and tattoos, are not within these 'protected attributes' under the Act.
Despite not having the jurisdiction to rule on the case, the deputy president of the Commission did make comment after the decision reflecting on the situation.
"Given current standards, it seems to me to be somewhat unrealistic that she is being denied her right to self-expression, when it was never an issue previously, and where her original contract of employment at least, impliedly, did not prevent her from doing so," he said.
Exceptions to the Fair Work Commission decision
There are some exceptions to this rule. Employees or prospective employees are protected from discrimination based on religion and ethnic origin. The Australian Human Rights Commission gives the example:
An employer had a policy to refuse to hire any workers with visible tattoos, even for roles that involved no customer contact. A Maori job applicant who had a tattoo for reasons connected to his ethnic origin was not hired because of his tattoo.
This could be racial discrimination on the part of the business.
Similar issues can arise around physical appearance in relation to religious appearance or dress, hair, and cultural piercings. Employers are within their rights to request reasonable changes or enforce policies which are necessary requirements of the job. For example, an employer may ask employees to remove or cover piercings and other jewellery for safety and hygiene reasons if they are working in food preparation. This is regardless of the cultural significance.
Guidance on tattoos and piercings for employers
Dress codes are very common in many businesses. They create a consistent image for the organisation and often are designed to ensure safety for employees while on the job. Where a business has restrictions, or bans on piercings and tattoos, there are some important considerations:
Policies should be clear, consistently enforced, and reasonable
The rules should be applied equally to all genders
All legal requirements should be taken into account when forming dress code policies. This includes ensuring the business does not contravene anti-discrimination legislation on cultural, religious, or ethnic customs
Dress codes should relate to the job and be a reasonable requirement, (e.g. because the job is customer-facing, or for safety reasons)
Policies on tattoos and piercings should clearly communicated to current and prospective employees, with the opportunity for workers and managers to have respectful open dialogue and feedback