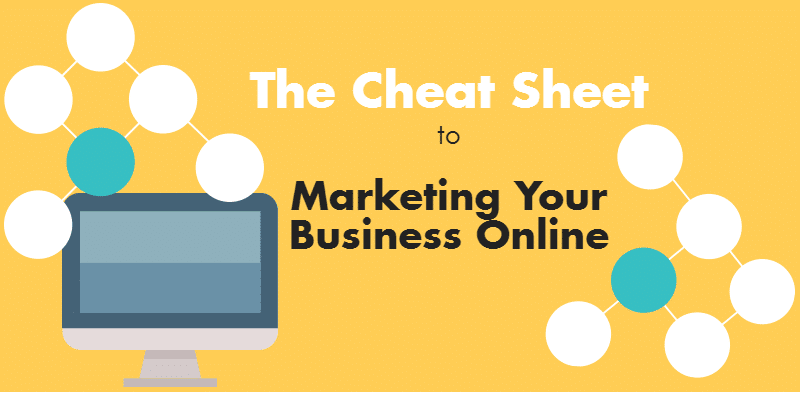 Marketing Your Business Online: The Cheat Sheet
Congratulations! Reading this article is your first step to success. In this digital age, the amount of online marketing tools and strategies available can seem overwhelming. Figuring out what to pick and how to use it can seem like a daunting task, but we've done the research so you don't have to. Now all we need to do is narrow your focus, set a clear goal, and a small, upfront investment of your time.
Cyberspace is expanding by the day, and it's easy to get lost among a sea of competitors. That's why it's important to target your strategy to a highly specific audience. Let's start by narrowing down who you really want to know about your business: who are your customers and what is your niche?
If you don't know who your ideal customer is and what sets you apart from your competitors, your online marketing is going to waste. Why invest countless hours and dollars with little to no results?
Think about who your clients are. Are they locals? Are you in a industry where affordability is paramount? When do your clients need you? When the plumbing bursts? What time do they generally make reservations?
The options are endless! Now, grab a pen and paper, or open up a word document or the notes section of your phone (nope, don't just keep reading actually go and do it). Take a moment, take a breath, and write down everything you know about your target customer.
Wonderful! Now keep that customer in mind for the rest of this post. Now you've got a clear target for your online marketing tools, we need to determine the optimal strategy.
Know Thy Niche
Remember the vast sea of cyberspace we discussed earlier? Well, if you don't want it to swallow up your business, you're going to have to get clever about who or how you target. Here are some ideas to get you started:
Target specific.
Your business isn't going to work for every human on the planet, so there's no point wasting your resources on people who will never become customers. This is why it's important for your ads to reach specific people or groups. Carefully think about how to maximise the effectiveness of your ad by manipulating when it pops up in search engine results.
Here are some traits you can target:
Searches within a certain location
Searches from a certain device
Searches within a certain timeframe
Searchers from certain income types
Selections within these traits might look like this:
Only searches within 5km of your business
Just searches from on smartphones
Only searches during dinner hours (5:30-8:30)
Just those with disposable income
With this kind of targeting strategy, each specific option makes each paid click (on Google) cheaper. Moreover, the ad gets placed higher in search results because less people are competing under the same specifics. This super-specific strategy is an affordable way to reach your target customers.
With this in mind, make sure your ad accurately represents the website you're linking it to. Google wants to help their users find relevant information, and your ad's position in the search engine isn't just dependent on how much money you pay, but also on the relevance of your website to the ad. For example, if your ad read, "Unlimited Chocolate", and your website was for a gym, Google is going to give you a low quality score and a poor search results position that no amount of money can resurrect.
Target smart
This requires some research and competition analysis. Look at the top competition in your space, and see what keyword terms they're bidding on, including their branded terms. Run some tests by bidding on your competitor's branded terms, and look for two things: cost per click and your position in AdRank.
Your competitor may pay a lot for marketing but not advertise on their branded keyword terms. Run some tests bidding on these terms and assess your success/failure! Just be wary of initiating a bidding war with your opponent.
There are a lot of avenues to pursue when it comes to online marketing, so let's have a look at some of the giants of online marketing tools: Facebook and Google.
Facebook: to reach your ideal customer
While Google is one of the best online marketing tools, Facebook is great at targeting specific groups of people (I hope you kept that target customer description!). Even better, you don't have to do any extra work to get people to see your ad, as people are already spending a huge chunk of their day on Facebook. However, because so many people use Facebook, the more specific your demographic is the better. It may feel like you're targeting a smaller group of people – and you are – but this will result in your business reaching the people who will actually use it, and thus increase customers/clients. Let's look at some examples.
Bad Facebook Targeting:
Everyone who is interested in Chinese food (too big)
Only people who like ice-cream and live in Brisbane (too small)
People who need a new phone now (great for Google, poor for Facebook)
Good Facebook Targeting
Everyone who lives within 1km of your business, is employed, and makes $60k+
People who are interested in automated time and attendance software in Brisbane City.
Single women who like rainy days, long walks on the beach and margaritas.
Google: to reach customers with intent
Now, Google has it's own major advantage that will save you time, effort, and lose you money. You basically get your own "free" Google employee, and they flesh out your online marketing campaign for you. It's amazing for getting your business going online, and it doesn't require any specific knowledge (and if some of the terms in this article have been new to you, it may be a good place to start!). You've just got to be willing to spend the money with Google and you're good to go.
BUT (yep, there's a but) you don't really want to be using Google unless you're going to target customers with intent. For example: I need a plumber now. This platform works best if you deliver a very clear and specific service in a narrow market (there's not heavy competition nearby). If you want to build an online presence, maybe gain some exposure, increase reservations, or communicate directly with your target market, then Facebook is for you.
If not, here are some Google examples:
Bad Google Targeting:
Great food Melbourne (too much competition)
Hairdresser Brisbane (very generic, what sets you apart?)
Electrician (very broad, and too much competition)
Good Google Targeting:
Vegan donuts in Brisbane (very specific, less competition)
Hire temporary staff Sydney
Plumber Ferny Grove Brisbane (specific suburb included, reducing CPC and who you target)
Track Your Progress
Now you've got an understanding of some optional strategies, primary online marketing tools, and the importance of knowing your customer, it's time to get your online marketing underway. When running ads, never forget to track their success! Generally, you'll want to install some code on your website that allows Google or Facebook to track conversions for you (i.e. how many people ended up on your site as a result of your ad). If you freaked out at the mention of "code", you may need to contact your web developer. If you're not tracking your marketing strategy results, you're just wasting time and money.
Online marketing tools are advancing, however you must use best practice to see the best results.