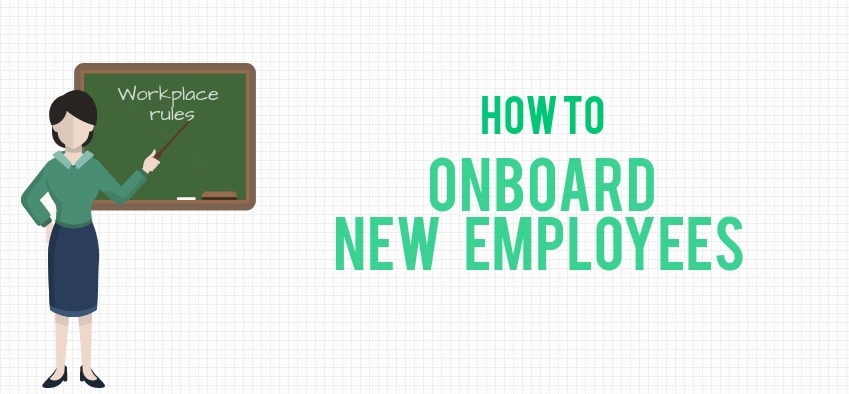 How to Onboard New Employees
Starting a new job can be stressful. But sometimes it's even more stressful being the one onboarding a new hire. So, we've compiled a list of top tips for successfully onboarding new employees.
Why is onboarding so important?
They say that your employees are your business's greatest asset. Hence, the process of onboarding new employees is crucial to the wellbeing of your company. Furthermore, onboarding plays a critical role in employee retention, and the satisfaction employees feel within the company. Onboarding refers to the process of getting new employees accustomed to the professional and social culture of the work environment. It's where they get taught the expectations, attitudes, skills and behaviours that will define their new position going forward. The idea behind successful onboarding is that the quicker a new employee learns these things, the quicker they can positively contribute to the company. Below are our top tips for successfully onboarding new employees for their maximum potential.
Utilise paperless onboarding software with employee self-service
Nothing wastes time quite like manual data entry. One of the simplest ways to get on top of your onboarding process is to operate a paperless onboarding software. Without one, your new employee will spend at least the first hour of their first day reading and filling out HR forms. With a paperless onboarding system, you can send your employee all the HR forms and they can fill them out online in minutes. Employee self-service within a paperless onboarding system is the easiest way to ensure that employee details are always accurate and up-to-date. If you select an intelligent HR software, they can even automatically transfer details from the employee's resume into the system.
Construct an employee induction package
A formal orientation or induction program is absolutely key for onboarding. You'll need to tweak this package for each new hire, but having a general outline of matters each employee will need to know will come in handy. This way you'll always know that you've given each new employee the right information, and each new hire has one key document to refer to when they need.
Your employee induction should cover:
Any preliminary legal and company-specific policies. The rules and regulations of your business should be clearly outlined so your new hire knows exactly what's expected.
A detailed description of your new employee's specific role, and how exactly their position fits into the bigger picture of the business as a whole.
The formal and informal organisational norms of the business.
Varying industries will also have other key documents that should be included, such as customer interaction manuals or safety compliance instructions. If you're operating a paperless onboarding software, you can simply load these materials into the system. This way, your new employee can access them from the cloud on any device.
Provide information prior to the first day
The first day of a new job is always daunting. One of the easiest ways to keep the pressure off the first day is to provide your new hire as much information as possible before the starting date. Further to the previous point, access should be given to these inductions documents at least a week before the employee starts their new position. This gives new employees time to properly familiarise themselves with these important notes. Plus, they'll have time to compile a list of detailed questions to ask you should they have any queries.
Break training modules into smaller blocks
There will still be some matters to go through on-location on their first day. However, you shouldn't overwhelm your new employee with too much in one go. Information overload is a real thing. Sitting your new employee down for a 3-hour long session will only lead to excess stress. When you're providing on-site training, do so in hour long blocks with breaks in between. Your new hire will need time to digest all the new information. Use the breaks to introduce your new employee to other staff, or give an office tour. This may take a little longer, however it will be worth it in the long run when your new team members understands everything that much better!
Have materials ready to go
Your new employee's first day shouldn't be spent hooking up their phone, trying to get internet access on their PC, or attempting to set up their new work email address. All this should be set up and ready to go before your new hire arrives. Not only will this allow your new employee's first day to run more smoothly, but it will set up a positive image of the company in their eyes.
Keep up the momentum with frequent check-ins
Over the first few months, check in with your new employee to see how things are going. Whether it's a formal meeting or a casual chat at their desk, check-ins are a good way to ensure that the onboarding process went well, and that your new hire is performing well. Utilising performance tracking software can be helpful for this process. With this kind of software, you can see how each new employee is adapting to the workplace by examining how much they're getting done. If they're doing well and productivity is high, congratulate them. If they're falling behind, then you can schedule a progress meeting and load some more training modules into your onboarding software for them to complete. These check-ins aren't just beneficial for the employee – they're a great chance for you to get feedback on the effectiveness of your onboarding process, and make any necessary changes.
Keep paths of communication open
Ensuring that your new hire feels they can ask questions, and chat to managers about issues is important. There are many ways you can encourage communication. Create a dedicated query time during group meetings, free your calendar for half an hour a week for new employee check-ins, or create an online workplace forum or message system for this specific purpose. Encourage regular group lunches where conversation flows freely and queries can be addressed calmly.
Onboarding new employees is an important step in creating a successful business. The process isn't easy, but by following these steps you are well on the way to increased employee satisfaction, decreased staff turnover, and overall heighted workforce success. The incorporation of technology into the onboarding process – such as paperless onboarding software that includes employee self-service, training, and performance tracking – is the easiest way to seamlessly onboard new employees for success.