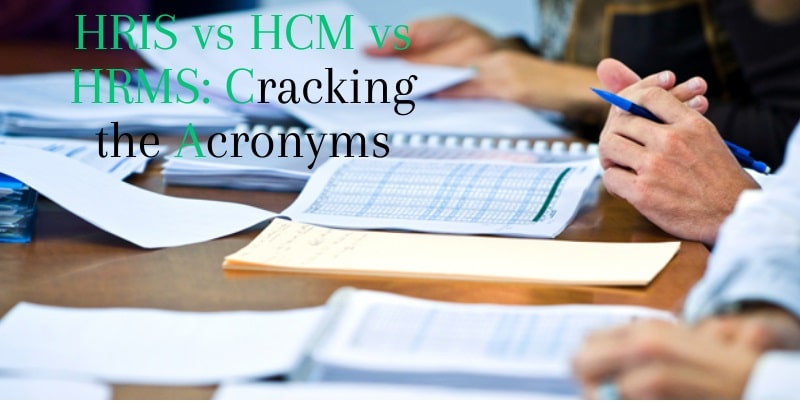 HRIS vs HCM vs HRMS: Cracking the Acronyms
Decoding the types of human resource software and applications available can be baffling. There are a lot of overlapping functions, but also some distinct differences. First of all, what do the acronyms stand for?
HRIS: Human Resource Information Software
HCM: Human Capital Management
HRMS: Human Resource Management System
Each of the options describes software or a cloud-based SaaS (Software as a Service) which operates to automate and streamline the many functions of your HR department. Depending on the option, this may include payroll functions, time and attendance logging, business intelligence, or award interpretation. While the terms are often used interchangeably, it is important for a business to consider the available functions before investing in a software solution.
HRIS – Human Resource Information System
The HRIS is the most basic level of HR applications. At its core, a HRIS solution has a database storing employee data – traditionally just 'static' information. This included contact and personal information, contract and position details, superannuation and taxation information. These solutions will often have some form of HR self-service which allows employees to update the database, such as banking information, as well as allowing managers to monitor and control budgeting.
The HRIS is just for what it says on the box – information. For additional capabilities, including the use of collected data for planning and analysis, the Human Capital Management system has a broader offering.
HCM – Human Capital Management
Human capital management solutions combine the features of the HRIS with extra functions, primarily around talent management. While the HRIS manages static information, the HCM allows the business to integrate more dynamic functions, such as salary and succession planning, performance and KPI reporting and management, and business intelligence and analytics.
This type of HR system can also manage multi-site companies and, critically, manages not just the information of employees but facilitates their movement into and around the business.
HRMS – Human Resource Management System
The HRMS is the most comprehensive of the digital HR solutions. It incorporates the features of the HRIS and HCM, as well extensive payroll and attendance tracking functionality. All-in-one HRMS solutions integrate all HR functions to significantly reduce administrative costs and ensure consistent, identical information being used in all parts of the company. Payroll integration, for example, means rostering processes and top-level budgeting are operating with the same data.
The best HRMS SaaS solutions offer managed payroll services, leave management, recruitment and onboarding abilities, and award interpretation. They may also include employee self-service for shift unavailability, expense management and pay summaries.
Premium HRMS providers now also provide customisable e-learning management systems (LMS), to add in-house or third-party training materials.
The blurred lines of digital HR solutions
While there are subtle differences in the terms traditionally, many modern vendors are simply fighting for their space in online search results. Regardless of what is 'written on the box', it is important that businesses identify the best, rather than the cheapest digital HR solution.
The lines between HRIS, HCM and HRMS are increasingly blurred, particularly with the offerings of TMS or Talent Management Software/System, (which has overlapping functions, but is again, slightly different). Some HR SaaS and applications have TMS capabilities built in providing even more value in the product. TMS integration into the broader HR application is ideal. Standalone solutions risk clashes or incompatibility across platforms from different software vendors.
Finding a quality digital HR solution for the business can deliver huge benefits to workflows and the bottom line.  Whether it is a HRIS, HCM, or HRMS, find a vendor that offers support, consistent quality, and a wide range of features to allow the business to change and grow over time.