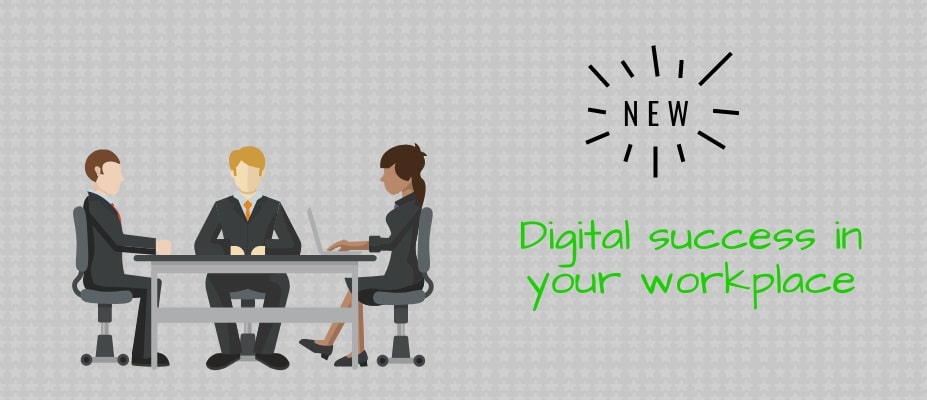 How to ensure the success of your new digital workplace
Upheaving your workplace to make a digital change may seem a daunting task. Unlike the hacking montages in spy movies, it requires less frantic typing at a keyboard, and more leadership and forethought.
Jürgen Meffert, the co-author of Digital @ Scale: The Playbook You Need to Transform your Company, discussed how such a change might affect your company in an interview with McKinsey & Company.
The biggest challenges
Avoiding pitfalls
The biggest issue companies face in making a digital transformation is lack of understanding. This transformation isn't squirreled away in the bowels of the IT department. It's a company wide effort, not something someone somewhere is working on in a back room.
The first step is to find a change that will fit your business. Work with the company's existing ecosystem. Then, realise it's not a side project. CEOs must understand it's a three to five year transformation. It must be relevant, and it must be pervasive.
New business models are emerging. Other companies are competing. You need to understand what everyone else is doing, and how digital will fit in with your business to compete.
Meffert suggests starting with customer issues, innovating to fix them. Next, you need to have an understanding of the supply chain. What can you do to meet the customer's needs, and how fast can you do it?
After this, you need to have a conversation about what you already have. Do you have the right people in the right places for a digital change? Do you need to hire new talent? How is your digital security? What are your existing IT foundations?
To Meffert, it's an end-to-end view that starts with the customer. The most important reason to change is to meet the needs of the customer. The question is how. You need to start with a plan. Organise budgeting. Create a milestone-based system. Start a pilot program with a high chance of success. Once you've laid the groundwork, you can move the plan out across your whole organisation.
Make it snappy
Products can fail on the most trivial of things. Not because they're not a good product, but because people don't know what they want. Customers don't know what they want. Market research can only tell you so much in a constantly changing consumer market.
For years, companies would go out, do the research, decide what a customer wanted, then launch. In today's market, this process no longer works. It's putting all your eggs in one basket with the certainty that you will get a result.
Today's customers are transient. They're indecisive and flexible. They live very different lives, in part due to the technology that surrounds them. Because of the ever-changing environment, your company will benefit from speed. So you create something. It doesn't work. You get customer feedback and you change it. You create something new. The customer wants something different.
This back and forth, trial and error approach removes the idea of a "one size fits all" planned launch. Instead, you create things quickly, and you change them even quicker.
Leadership at the top
While every level of your business should be focussed on the digital transformation, leadership is often a top-down process. Without a driving force initiating and prioritising the change, it will be difficult to permeate through your business.
There should be constant communication with all teams involved, checking in on progress and removing barriers to success. If people are set in their ways, they need to learn to change, or be moved out of the way of the transformation.
There is no use in a CEO who espouses the benefits of the change, and then isn't seen again for the rest of the process. Digital transformations don't happen immediately, and so the CEO needs to be visibly pushing the change throughout the process. It is a test of endurance, but one that will benefit everyone in the long run.
What's more, digitization can't wait. Change has to happen quickly. Other companies aren't waiting around until they're "ready." Every industry is automating processes, changing the way we do business. If you wait too long, you may no longer have the ability to be a player. Catch up is hard enough, starting from scratch doing what other companies have been working on for years is near on impossible.