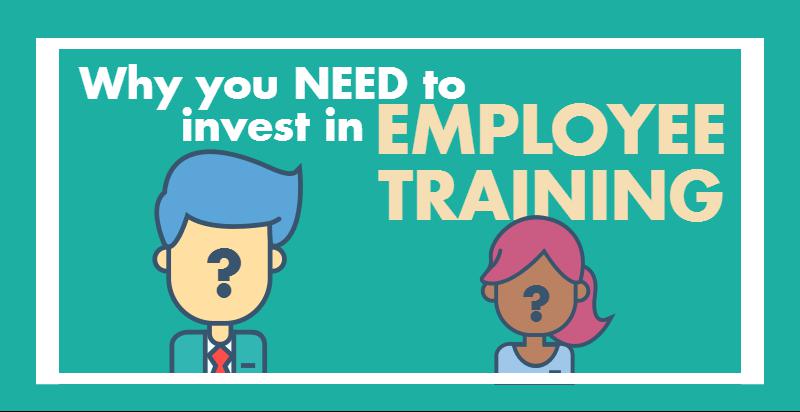 Why You Need To Invest In Employee Training
On the list of budget cuts, employee training can often be a prime target. It is often expensive, time-consuming and doesn't seem to reap immediate rewards in terms of profit. Overall, cutting employee training can be seen as a bonus to the budget.
However, whether you realise it or not, by cutting out sufficient employee training you are increasing your costs. You might be telling yourself the lies that only high-level employees need training, or that newly hired staff are trained and rearing to go. You may be one of those people who believe training should be a one off occurrence that offers enough to cover the basics. Or perhaps you might be afraid to invest too heavily in training employees in the worry that a competitor may poach them, so instead you would rather not waste finances. But the real question isn't whether you should instigate employee training or not, but whether you are willing to invest more and not less.
Well-Trained Employees Are Less Likely To Quit
In comparison, a trained employee will not quit as easily as an untrained employee might. Why is this the case? Because an employee who is well trained for their job will be far more confident and competent to do their work. They know exactly what must be done and will know you appreciate them if you spend the time and money to train them well. On the other hand, an untrained employee will normally struggle to complete their work before quitting, often feeling unappreciated. Here are some issues associated with an employee quitting:
It will be expensive to replace them
It hurts the team environment
Customers may notice the high turnover of staff and begin to think about the culture of your business
It is a costly process to train employees efficiently, however the benefits far outweigh the expenses to rehire new staff. Firstly you have to pay for advertising costs for the position and then hold multiple interviews, which is a lengthy and time-consuming procedure (and remember, time is money).
Employee Training Leads to Better Attitudes
If an employee has a job to do and they are not sufficiently trained to complete that job, they are likely to feel inadequate and become hesitant to do anything. Think about it, if they have days upon weeks where they feel they are not accomplishing anything, they aren't exactly going to be thrilled to come to work are they? This directly affects the team morale and may have serious impacts on your customers' experiences. And obviously, most employees will want to be doing a great job at work. Not only for themselves but also for you, so they can take pride in their actions and leave the patrons delighted. So, you must take it upon yourself to ensure you have trained them well enough to excel in their position.
Trained Employees Will Reduce Your Costs and Increase Patrons
First of all, lets take a look at a small list of qualities that an untrained employee might possess:
Less efficient
Lack knowledge on products and services
Incompetent to offer adequate customer support
Less productive
Now that looks like a rather expensive list doesn't it? An untrained member of your team will be more expensive in the long run, which is why training is essential. Training includes learning a great deal of knowledge, and we all know that knowledge is power. A fully equipped employee will carry out their work confidently and always put the best interest of the company first. In contrast, someone who isn't trained properly will essentially be learning as they go, focusing solely on themselves and how to do a task rather than what they could be doing for your customers.
Do Not Ignore Your Entry-Level Employees
Do you see an entry-level position within your business as being insignificant? Well, you shouldn't. When a customer enters your store, calls the front desk or sends the company an email, who is the respondent they will interact with? Your entry-level employee. A customer is only concerned with the experience they are given which is why it is so very important your entry-level staff are being well trained to uphold your businesses reputation. Even if the job can seem too simple for extensive training (using a cash register), think about the extra mile you could go to teach them great customer service skills or how to upsell items. It is the little things that make a big difference to a customer.
Here are 3 important tips that can help an entry-level employee:
Teach them effective communication – look people in the eye, do not mumble, have a great background of the products and services offered, and most importantly – SMILE.
Teach them to use their initiative – if they have finished assigned tasks train them to look elsewhere for jobs to be done.
Teach them how to deal with conflict or stressful situations – let your employee feel comfortable that they can come and get you if they are dealing with an irate or upset customer, train them how to effectively diffuse a tricky situation.
For many people, an entry-level job will often be their first job in the adult workplace. If you spend the time to train them well, you will not only be helping your business but will also be assisting in their professional development.
Employee training does not have an immediate capital gain, however it will decrease your staff turnover and help sustain the prosperity of your business. Remember: a great employee is your most valuable asset.