Save time and Download your Job Description – Sales Associate
Sales Associate Job Description
Download Roubler's Sales Associate Job Description template below.
Our job description template for the sales associate position has been generated as a helpful tool when recruiting a new sales associate. It is deigned for easy use on online job sites and careers pages, and is easy to customise. The sales associate template includes a role outline for a cashier, key responsibilities and duties, and necessary skills. There's space for you to provide company information and contact details. Download the job description outline below to customise it to suit your needs!
JOB DESCRIPTION Sales Associate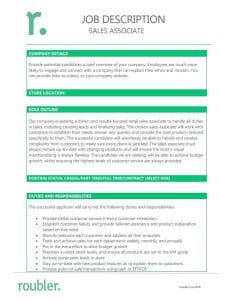 ROLE OUTLINE
Our company is seeking a driven and results-focused retail sales associate to handle all duties in sales, including creating leads and finalising sales. The chosen sales associate will work with customers to establish their needs, answer any queries, and provide the best product, tailored specifically to them. The successful candidate will seamlessly be able to handle and resolve complaints from customers to make sure every client is satisfied. The sales associate must always remain up-to-date with changing products, and will ensure the store's visual merchandising is always flawless. The candidate we are seeking will be able to achieve budget growth, whilst ensuring the highest levels of customer service are always provided.
DUTIES AND RESPONSIBILITIES
The successful applicant will carry out the following duties and responsibilities:
Provide stellar customer service in every customer interaction
Establish customer needs, and provide tailored assistance and product explanation based on this need
Warmly welcome each customer and address all their enquiries
Track and achieve sales for each department weekly, monthly, and annually
Put in the extra effort to drive budget growth
Maintain in-store stock levels, and ensure all products are set to the VM guide
Actively purse sales leads in store
Stay up-to-date with new product features as to explain them to customers
Process point-of-sale transactions using cash or EFTPOS
Cross-link product categories within the one sale
Warmly handle refunds and exchanges to the manual outline
Work well in a team
Establish and maintain a good rapport with customers
Be aware of, and operate to, company policies and procedures
Actively suggest ways to drive sales
REQUIREMENTS
The successful applicant will have the following experience and skills:
A minimum years' experience as a sales associate, cashier, or similar position
Proven success in budget growth at previous sales role
An understanding of the basic principles of sales and customer service
A high school degree, with a tertiary degree in marketing or a similar field beneficial
High level of proficiency in English, and a basic proficiency in maths
Experience using a point-of-sale system
Knowledge of inventory procedures
High level communication skills and ability to solve problems under pressure
A friendly, warm persona to mix well with customers
Ability to address complaints in a calm and friendly way
Flexibility to work various rosters
Please provide a full cover letter and resume to the manager to be considered for this role.